Taken
(2009)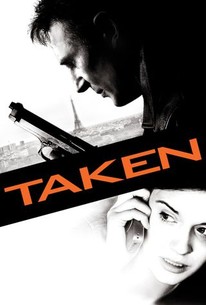 Movie Info
An ex-soldier (Liam Neeson) traveling through Europe embarks on a frantic quest to rescue his daughter (Maggie Grace) after the young girl is abducted by slave traders in District B13 director Pierre Morel's contemporary thriller Taken. Robert Mark Kamen joins the screenwriting team, which also includes Morel and longtime collaborator Luc Besson, who also produces. ~ Jason Buchanan, Rovi
News & Interviews for Taken
Audience Reviews for Taken
A fun, adrenaline rush of a thriller about a former CIA agent (Liam Neeson) whose daughter is kidnapped in Paris and sold into the sex slave world, forcing him back into action to rescue her. Neeson brings a raw edge to a new breed of government agent, always cool and collected, and it is fun to watch him in action. Despite Maggie Grace being totally miscast as a 16 year old when she looks to be about 25 in real life, the acting is overall pretty solid. While the ending left me wanting more, the movie is well plotted and executed, thanks in large part to clever choreographed fight scenes and Neeson's stellar turn. Highly re-watchable and definitely recommended.
Dan Schultz
Super Reviewer
Both incredible and terrible, "Taken" will always hold the titles of 'over-hyped." I really don't understand the hype of this film, sure the action is fun to watch, but the film has such a thing plot that it makes it pretty laughable at times. As a man's daughter is taken, he seeks vengeance on the people who took her, blah blah blah, we have seen all this before, but the fact that it can surprisingly keep you intrigued is what sells it for me. Liam Neeson makes the film worth while, as he pretty much does for any film he is in and the quick cuts in each action sequence make it very kinetic and heart-pumping. It is definitely not a film to watch over and over again, but overall, it's a fun popcorn flick. "Taken" is the epitome of the term "Hollywood," and it plays it safe in every aspect. Fun and exciting, but bland at heart.
½
A retired ex-secret serviceman is trying to make amends with his estranged daughter when she is kidnapped in Paris by white slave traders. Taken is on paper a very straightforward, almost tired sounding idea that you've heard a thousand times before. It's an unpretentious action thriller that plays out like a revenge story, except there is a goal outside of vengeance; a father's unstoppable wish to protect his daughter from harm. The first 30 minutes is the usual predictable and slightly clumsy exposition, but once Neeson springs into action it becomes an altogether different beast. Neeson is not the kind of action hero who looks like he'd shy from a fight for the fear of mussing his hair. Instead we get an ageing Irish terminator cutting a swathe through the kind of evil bastards even a guilt-ridden white liberal such as myself feels a tingle of pleasure to see brutally disposed of. The appearance of Holly Valance is a little embarrassing and sits about as comfortably as pink frosting atop a T-bone steak and made me suspect that her agent beat the producer at cards the night before shooting but otherwise it does exactly what is says on the tin. Plotless in almost a pleasing way, this is kind of like James Bond going rogue except "this time it's personal"; there are no stereotypical terrorists threatening our fat cat white Christian way of life, no shadowy conspiracies or megalomaniacs, just a single-minded feast of adrenaline fuelled action that I really enjoyed. One of my future guilty pleasures and no mistake...
Taken Quotes
| | |
| --- | --- |
| Bryan Mills: | I don't know who you are. I don't know what you want. If you're looking for ransom, I can tell you I don't have money... but what I do have are a very particular set of skills. Skills I have acquired over a very long career. Skills that make me a nightmare for people like you. If you let my daughter go now, that will be the end of it - I will not look for you, I will not pursue you... but if you don't, I will look for you, I will find you... and I will kill you. [Long pause, then:] |
| Bryan Mills: | I don't know who you are. I don't know what you want. If you're looking for ransom, I can tell you I don't have money but what I do have are a very particular set of skills. Skills I have acquired over a very long career. Skills that make me a nightmare for people like you. If you let my daughter go now, that will be the end of it. I will not look for you, I will not pursue you. But if you don't, I will look for you, I will find you and I will kill you. |
| | |
| --- | --- |
| Bryan Mills: | I don't know who you are. I don't know what you want. If you are looking for ransom, I can tell you I don't have money. But what I do have are a very particular set of skills; skills I have acquired over a very long career. Skills that make me a nightmare for people like you. If you let my daughter go now, that'll be the end of it. I will not look for you, I will not pursue you. But if you don't, I will look for you, I will find you, and I will kill you.... |
| | |
| --- | --- |
| Bryan Mills: | "I don't know who you are. I don't know what you want. If you are looking for ransom, I can tell you I don't have money. But what I do have are a very particular set of skills; skills I have acquired over a very long career. Skills that make me a nightmare for people like you. If you let my daughter go now, that'll be the end of it. I will not look for you, I will not pursue you. But if you don't, I will look for you, I will find you, and I will kill you." |
| Bryan Mills: | I don't know who you are. I don't know what you want. If you are looking for ransom, I can tell you I don't have money. But what I do have are a very particular set of skills; skills I have acquired over a very long career. Skills that make me a nightmare for people like you. If you let my daughter go now, that'll be the end of it. I will not look for you, I will not pursue you. But if you don't, I will look for you, I will find you, and I will kill you. |