Taking Chance
(2009)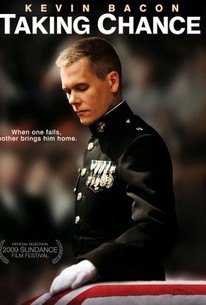 Movie Info
Inspired by the true story of the United States Marine who volunteered to escort the remains of a nineteen year old soldier who was killed in Iraq to his small hometown in remote Wyoming, Taking Chance stars Kevin Bacon in the feature directorial debut of Oscar-nominated producer Ross Katz. Lance Corporal Chance Phelps (USMC) was just nineteen years old when he was killed during active duty. Now, as Lance Corporal Phelps is prepared for his final journey back home, Lieutenant Colonel Michael Strobl (USMC) (Bacon) makes it his personal mission to ensure that his fallen brother is laid to rest with the proper respect. As the journey begins, Lieutenant Colonel Strobl gains a greater appreciation of the sacrifices made in war than ever before.
Critic Reviews for Taking Chance
Audience Reviews for Taking Chance
Taking Chance is an incredible picture starring Kevin Bacon that tells the true story of Lieutenant Colonel Michael Strobl who volunteered to escort the remains of Chance Phelps, a Marine killed in Iraq. This is a powerful film that is an eye opening experience. Kevin Bacon gives one of his finest performances. This film was very personal for me, as I grew up in a military family. This film really was a respectful tribute to the men who gave their lives. This is really a subtle film, one that tells a very simple story, albeit a powerful one. This is a well acted movie that is an emotional viewing experience. I really enjoyed this film and I think it's an important one as well. This is one of the most well told dramas that I have seen, and it is a must see film that should be seen for anyone interested in what escorts do to bring fallen soldiers home. This isn't an action film or a war film. On the contrary, this film gives us a behind the scenes look at what goes on, and it makes for a compelling viewing experience that you simply can't forget. I think that this was a story that needed to be told, and the filmmakers did the true story justice. I'm not one to get emotional while I watch movies, but this one made me feel choked up. This is simply put a terrific picture that is brilliant and heartfelt. Taking Chance is a great movie well worth your time, and is one of the most eye opening films that I have seen in quite some time. The story is simple, but engaging and it all comes down to human respect, and the understanding of the sacrifice of soldiers that are willing to give their lives for their country.
½
"You are his witness now. Without a witness, they just disappear." Based on real-life events, Lt. Col. Michael Strobl, a volunteer military escort officer, accompanies the body of 19-year-old Marine Chance Phelps back to his hometown of Dubois, Wyoming.
REVIEW
A muted, dignified film that boasts limited dialog and gorgeous Western scenery, it speaks to something that is desperately needed in the wake of current events over the last seven years: namely meditative, apolitical understanding that war is not merely platitudes, large, grand declarations of duty or the bombs, bullets and destruction that audiences tend to get dulled into complacency but is also about deep, implacable loss and the ability to accept, continue and believe in the face of it. A movie probably meant for the big screen but fits much more comfortably and intimately as a television film, this film is a far too rare examination of the kind of experiences that many servicemen and/or family of servicemen endure during a time of long, protracted war. Ready for a sobering look at the current conflict in Iraq through clear, gentle eyes? Look this one up.
Lorenzo von Matterhorn
Super Reviewer
Kevin Bacon, Tom Aldredge, Guy Boyd Blanche Baker, Ruby Jerins, Mike Colter, Henry Coy, Tom Wopat DIRECTED BY: Ross Katz Based on real-life events, Lt. Col. Michael Strobl, a volunteer military escort officer, accompanies the body of 19-year-old Marine Chance Phelps back to his hometown of Dubois, Wyoming. This is one of those movie's where actions speak louder than words. With it being the people turning on their vehicles lights as they are passing, or to the flight attendant not saying much but handing over a cross that says it all. Very emotional movie. Touching and moving. Definitely shed a good amount of tears throughout this film. But it does touch home for a lot of us who has family members and friends still fighting and for those who have lost there loved ones. It's well worth the watch. Kevin Bacon did brilliant in this movie. Great movie. Give it a watch..
♥˩ƳИИ ƜѲѲƉƧ♥
Super Reviewer
Taking Chance Quotes
| | |
| --- | --- |
| Charlie Fitts: | "You are his witness now. Without a witness, they just disappear."r quote here... |
| Charlie Fitts: | You are his witness now. Without a witness, they just disappear. |