Taking Lives
(2004)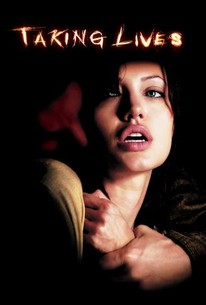 Movie Info
A female detective on the trail of a psychotic killer discovers love in a dangerous time in this thriller, based on the novel by Michael Pye. Illeana Scott (Angelina Jolie) is a special agent with the FBI who has a reputation for using offbeat methods, but also boasts a strong record as a criminal profiler. Scott is called in by a former Quantico colleague (Tcheky Karyo) to assist two Canadian police detectives, Paquette (Olivier Martinez) and Duval (Jean-Hugues Anglade), who are on the trail of a serial killer who has been doing business in and around Montreal for close to two decades. The murderer has a history of assimilating many aspects of the lives of his victims after he kills them, but there's been a witness to his most recent crime. Art gallery owner James Costa (Ethan Hawke) saw the killer during an assault, and now finds himself working as an only marginally willing decoy for Scott. As Scott and Costa follow the killer's trail, they find themselves becoming attracted to one another, which is not necessarily a comfort to Scott as she finds her quarry moving closer and closer. Taking Lives also stars Kiefer Sutherland and Gena Rowlands. ~ Mark Deming, Rovi
Critic Reviews for Taking Lives
Audience Reviews for Taking Lives
½
It was okay. Ending ruined it and I had to rewind a few times as my attention kept wavering. Not an Angelina fan at all, but she's okay here, as is Ethan Hawke. For a free Netflix watch, no real complaints, but glad I didn't spend money buying or renting it.
Nicki Marie
Super Reviewer
½
Angelina Jolie bringing the heat here as a FBI agent tracking down a clever serial killer. Its a by-the-numbers offering, the director DJ Caruso leading the audience shamelessly so that when the twist arrives its kinda tired as he's been hinting at it for over an hour. In the meantime, its Jolie that keeps your attention, those lips and all obscuring all thought otherwise. Ethan Hawke is okay, but only that.
Kevin M. Williams
Super Reviewer
A rash of films appeared in the late nineties and early aughts that had beautiful women facing down serial killers. Like Jolie's earlier "The Bone Collector" and the Sandra Bullock's "Murder by Numbers," "Taking Lives" follows a female law enforcement agent getting into the psyche of a killer. The entire film is thoughtless from beginning to end. They don't know the identity of this killer, or even if he actually exists, and yet they find his identity based on a tip from an elderly woman, which seems like an innocuous claim. The action is predictable, the twist isn't presented very well, there's really strange instances of adult content for no reason other than they needed nudity, our main character is completely one dimensional except that she's morbid, the ending is thoughtlessly horrible, and none of this film makes any sense. It's just really horribly done, all around. Nothing makes any sense, whatsoever, which is a serious problem, especially when the entire film revolves around the logic in solving a decade's long set of mysteries. Even as a time waster this is not a good choice, as its endless reign of immaturity will anger anyone who deems to watch it.
Spencer S.
Super Reviewer
Taking Lives Quotes
There are no approved quotes yet for this movie.