Taking Woodstock
(2009)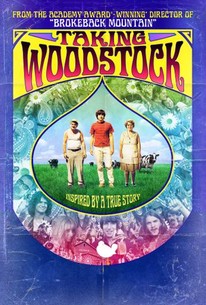 TOMATOMETER
AUDIENCE SCORE
Critic Consensus: Featuring numerous 60s-era clichés, but little of the musical magic that highlighted the famous festival, Taking Woodstock is a breezy but underwhelming portrayal.
Movie Info
It's 1969, and Elliot Tiber, a down-on-his-luck interior designer in Greenwich Village, New York, has to move back upstate to help his parents run their dilapidated Catskills motel, The El Monaco. The bank's about to foreclose; his father wants to burn the place down, but hasn't paid the insurance; and Elliot is still figuring how to come out to his parents. When Elliot hears that a neighboring town has pulled the permit on a hippie music festival, he calls the producers, thinking he could drum up some much-needed business for the motel. Three weeks later, half a million people are on their way to his neighbor's farm in White Lake, N.Y., and Elliot finds himself swept up in a generation-defining experience that would change his life, and American culture, forever. The film features a standout ensemble cast and songs from a score of '60s musical icons, including The Grateful Dead, The Doors, Jefferson Airplane and Country Joe and the Fish -- plus a new recording of "Freedom" from Richie Havens.
News & Interviews for Taking Woodstock
Critic Reviews for Taking Woodstock
Audience Reviews for Taking Woodstock
Lee's film manages to capture the groovy vibe of the famous festival, although it doesn't quite develop the protagonist very well and isn't that revealing about the magic of Woodstock itself. The result is enjoyable yet definitely underwhelming.
Carlos Magalhães
Super Reviewer
Taking Woodstock start interesting, but went the film begings to show the festival, Woodstock stay disagreeably sweet and presents a not so good screenplay, featuring some cliches. Don't focus really on the festival, showing just the making off. Ang Lee's Taking Woodstock is disappointing. Rotten.
Lucas Martins
Super Reviewer
Ang Lee's Taking Woodstock is based on the true story of Elliot Teichberg, one of the organizers of the Woodstock festival. Considering the legendary festival in music history, you'd expect something great right. The result is a good film that could have been done better. The film is entertaining with a good cast of varied talent and it's actually quite awesome to see such an iconic moment in music history come to life. This is a stunning look at what went behind the scenes about how Teichberg organized this incredible festival. I really loved the film, and though it's far from perfect, it's a must see movie for those who enjoy a fine comedy drama film that is based on real events. The story is good and the film has spirit and manages to overcome its imperfections by its good cast, its story and effective directing from Ang Lee. Lee manages to convey a good experience with this outing, and it is an entertaining drama that relies on a true story to captivate the viewer. At times though, the film does become a bit too preachy and tiresome. Luckily it does pick up in a few areas and there are plenty of good comedy bits with the drama and the film gives us a taste of what it was like during that time. Taking Woodstock is a film that could have been done better, but it nonetheless is a memorable comedic drama that relies on a good story and effective cast to overcome its shortcomings. Ang Lee, who I'm not too much of a fan, give the film soul and it ends up being a fun experience.
Taking Woodstock Quotes
There are no approved quotes yet for this movie.