The Tale of Despereaux
(2008)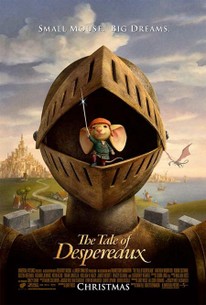 The Tale of Despereaux Videos
The Tale of Despereaux Photos
Movie Info
"The Tale of Despereaux" tells the story of several unlikely heroes: Despereaux, a brave mouse banished to the dungeon for speaking with a human; Roscuro, a good-hearted rat who loves light and soup, but is exiled to darkness; Pea, a Princess in a gloomy castle who is prisoner to her father's grief; and Mig, a servant girl who longs to be a Princess, but is forced to serve the jailer. Tiny and graced with oversized ears, Despereaux was born too big for his little world. Refusing to live his life cowering, he befriends a Princess named Pea and learns to read (rather than eat) books--reveling in stories of knights, dragons and fair maidens. Banished from Mouseworld for being more man than mouse, Despereaux is rescued by another outcast, Roscuro, who also wants to hear the tales. But when the Princess dismisses Roscuro's friendship, he becomes the ultimate rat and plots revenge with fellow outsider Mig. After Pea is kidnapped, Despereaux discovers he is the only one who can rescue her--and that even the tiniest mouse can find the courage of a knight in shining armor. In this tale of bravery, forgiveness and redemption, one small creature will teach a kingdom that it takes only a little light to show the truth: what you look like doesn't equal what you are.
Critic Reviews for The Tale of Despereaux
Audience Reviews for The Tale of Despereaux
Good animation, but a boring and unintellegent story. Really not very good, a better tale for a straight to DVD movie.
Jim Careter
Super Reviewer
Oh my goodness gracious! They ruined such an amazing story with this movie. I love the book, "The Tale of Desperaux". It was exciting, funny, fresh, and original. You can easily see how much they tried to honor the source material but they easily failed at every chance they got. The story is about a fearless mouse named Desperaux who has exceptionally large ears and a big taste for adventure. He live in a castle and a has crush on the princess, who is voiced by Emma Watson of "Harry Potter" fame. Thats one of the very few good things about the film. I don't want to give too much away about the story. Read the book for more. To me, the animation was detailed and good-looking but was unoriginal. Its like they tried to mix Pixar with a Da Vinci painting! The voice acting was decent but not that pleasing. They've could've done a much better job with casting Desperaux. The most annoying thing about the film was Sigourney Weaver's freaking narration! It was poorly written and made me want to perform hari kari on myself. They did not honor the source material, they raped it! They severely raped a wonderful tale with this. They failed to make it exciting like the book. This is sure to bore children to sleep. They also failed to add intereting humor. What kind of G-Rated animated movie contains no humor? There were like only two jokes in this. None of them made me laugh. I'd rather look at a pile of horse droppings for the entire film's runtime. If you plan to see this, read the book first. If you end up giving this a watch, you'll be saying "Forget this movie! The book was so much better!" when it ends. It sucks so bad, I could not make it to the end, folks.
Bentley Lyles
Super Reviewer
Though i havent read the book and i still care not to, i have to say the movie was pretty good
Michael Edwards
Super Reviewer
The Tale of Despereaux Quotes