The Talented Mr. Ripley
(1999)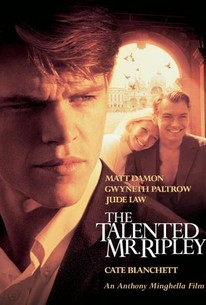 TOMATOMETER
AUDIENCE SCORE
Critic Consensus: With Matt Damon's unsettling performance offering a darkly twisted counterpoint to Anthony Minghella's glossy direction, The Talented Mr. Ripley is a suspense thriller that lingers.
The Talented Mr. Ripley Videos
The Talented Mr. Ripley Photos
Movie Info
After the Oscar-winning The English Patient, writer/director Anthony Minghella attempted another tricky literary adaptation with The Talented Mr. Ripley, which features heartthrob Matt Damon cast against type as a psychopathic bisexual murderer. Tom Ripley (Damon) is a bright and charismatic sociopath who makes his way in mid-'50s New York City as a men's room attendant and sometimes pianist, though his real skill is in impersonating other people, forging handwriting, and running second-rate scams. After being mistaken for a Princeton student, Tom meets the shipping tycoon father of Dickie Greenleaf (Jude Law), who has traveled to the coast of Italy, where he's living a carefree life with his father's money and his beautiful girlfriend, Marge (Gwyneth Paltrow). Dickie's father will pay Ripley 1,000 dollars plus his expenses if he can persuade Dickie to return to America. As Ripley and Dickie become friends, Tom finds himself both attracted to Dickie and envious of his life of pleasure. In time, he decides that he would rather be Dickie Greenleaf than Tom Ripley, so rather than go back to his life of poverty, Ripley impulsively murders Dickie and assumes his identity. The Talented Mr. Ripley was based on the first of a series of novels featuring Tom Ripley written by Patricia Highsmith; the story was previously filmed in 1960 as Purple Noon, with Alain Delon as Ripley. ~ Mark Deming, Rovi
Critic Reviews for The Talented Mr. Ripley
Audience Reviews for The Talented Mr. Ripley
Compelling, dark, shocking, and fascinating, The Talented Mr. Ripley is expertly constructed and features exceptional acting, writing, and a thrilling narrative.
Matthew Samuel Mirliani
Super Reviewer
A dive into the mind of a frustrated arriviste and the violent and cunning methods he uses to fulfill his social and affective yearnings. Subtle, suspenseful and fascinating character study.
Pierluigi Puccini
Super Reviewer
½
Anthony Minghella absolutely knocked it out of the park with this taut and quite faithful adaptation of the first entry in a series of noir thrillers by Patricia Highsmith. Set in the 1950s, Tom Ripley is a young, bisexual man whose only real talents in life are forging handwriting, impersonating others, and running second-rate scams. He makes his way in New York as a men's room attendant and occasional pianist, but, after being mistaken for a Princeton grad, he comes into contact with a shipping tycoon named Greenleaf who offers Tom $1,000 plus expenses to go to Italy and convince his wayward son Dickie to return home to the States. Tom sets out on this task, but after befriending Dickie and spending lots of time with him and his lover Marge, he becomes dangerously envious of the carefree and lavish lifestyle lead by Dickie, and after his advances are rejected, Tom decides he'd rather become Dickie instead of continuing his life as it was. After impulsively murdering DIckie and assuming his identity, he finds himself playing a dangerous game in order to cover his tracks and keep the truth hidden. Aside from greatly expanding on a minor character from the book and creating a whole new one for the movie, this is a wonderfully accurate and faithful take on the source material. It's a very taut and gripping psychological thriller, and the cast masterfully bring the characters to life. Matt Damon is tremendous, and successfully goes against type as the psychopathic con man with serious issues when it comes to identity and a sense of belonging. He's quite chilling, and you really feel on edge as he tries to pull off the task of becoming someone else. Jude Law is marvelous as the arrogant and brash Dickie, and he really sells the carefree hipster persona of the character. Gwyneth Paltrow is really good as Dickie's lover Marge, although I feel she really gets overshadowed by everyone else, namely Philip Seymour Hoffman as Dickie's friend Freddie Miles, a really slimey and highly suspicious worm who barely conceals his contempt for the tormented lower class Ripley. It's a marvelous performance, and a real tribute to his talents, as Freddie is probably the most loathsome character here. The production values are top notch, the cinematography and location shooting are absolutely gorgeous, and the film is really strong when it comes to delivering the tension, suspense, and thrills. This is a classy and wonderfully engrossing thriller that you should definitely make a point to see.
Chris Weber
Super Reviewer
The Talented Mr. Ripley Quotes
| | |
| --- | --- |
| Freddie Miles: | How's the peeping Tommy |
| Freddie Miles: | How's the peeping, Tommy |
| Freddie Miles: | How's the peeping, Tommy? |
| | |
| --- | --- |
| Tom Ripley: | No, I like him. You like everybody, Marge. |
| | |
| --- | --- |
| Tom Ripley: | Well, whatever you do, however terrible, however hurtful, it all makes sense, doesn't it, in your head. You never meet anybody that thinks they're a bad person. |
| | |
| --- | --- |
| Marge Sherwood: | Why is it when men play together, they always try to kill each other? |
| Dickie Greenleaf: | (jokingly) He's drowning me! |
| Dickie Greenleaf: | [jokingly] He's drowning me! |