The Talk of the Town
(1942)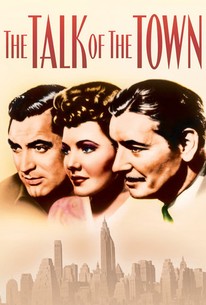 The Talk of the Town Photos
Movie Info
George Stevens' Talk of the Town is a quick-witted comedy driven by wonderful performances by Cary Grant, Ronald Colman and Jean Arthur. Michael Lightcap (Colman) is a stuffy law professor in line to a Supreme Court appointment, who is spending the summer at the house of schoolteacher Nora Shelley (Arthur). But Lightcap is not the only guest at the house. Shelley has also let Leopold Dilg (Grant)--a man who had recently escaped from prison, where he was serving a sentence for false accusations of immolating a local factory--stay at the house, telling Lightcap that he is a gardener. In addition to striking up a friendship, Lightcap and Dilg also compete for the affections of Shelley. Eventually, the professor learns of Dilg's true identity, finding out that Leopold was framed by a crooked government, led by the foreman of the factory, who supposedly died in the fire. When Dilg is captured by the police, Lightcap comes to his defense, bringing the still-alive foreman out of hiding and, in the process, clearing Leopold of all the charges. Talk of the Town received Academy Award nominations for Best Picture, Best Screenplay, Best Original Story, Best Score, Best Editing, and Best Interior Decoration, yet it lost in all of the categories. ~ Stephen Thomas Erlewine, Rovi
Critic Reviews for The Talk of the Town
Audience Reviews for The Talk of the Town
Another of my favourite Cary Grant movies, and Jean Arthur and Ronald Colman movies too. I guess you could just say it's one of my favourite movies! The story is both thrilling and hilarious. Plus, you learn a lot about politics and philosophy and things that people cared about in the forties. I highly recommend this movie.
½
In "The Talk of the Town," Leopold Dilg(Cary Grant) is in jail, being accused of arson and murder. Facing an impossible trial and a possible death penalty, he does the only sensible thing and escapes, injuring his ankle in the process. He gets as far as the farmhouse of Nora Shelley(Jean Arthur) who takes pity on him and hides him in the attic. At which point, Professor Michael Lightcap(Ronald Colman), the new tenant, arrives a day early. Leopold's lawyer Sam Yates(Edgar Buchanan) sees an opportunity and wants to recruit the renowned law professor to their cause. "The Talk of the Town" is an enjoyable comedy about a serious subject that is handled well by its very talented cast, even the more improbable parts of the story. Considering how badly activists have been treated in the movies over the years, it is refreshing to have one in Leopold who is so likable.(Well, yes, I know he is played by Cary Grant but at this point, his persona was not frozen in stone, yet.) I also did not realize how rare beards were at the time which is another detail of how brave this movie was. That fits in well with the movie being so much on the side of advocacy and individualism, showing clearly how politics can change people for the better.
Wonderfully funny even if it does have a very serious point. The three leads do an absolutely brilliant job in conveying a growing relationship and are perhaps one of the only believable and functional threesomes in cinema. The script doesn't drag itself down by having a rivalry breakout between the two males, making this very fresh. The ending goes on a bit even after the point has been made. Awesomely enjoyable stuff.
Luke Baldock
Super Reviewer
The Talk of the Town Quotes
There are no approved quotes yet for this movie.