Talk Radio
(1988)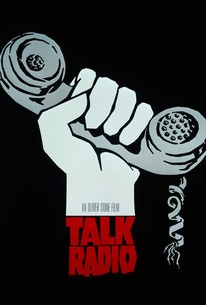 TOMATOMETER
AUDIENCE SCORE
Critic Consensus: The gripping union of a director and star at the peak of their respective powers, Talk Radio offers the viewer a singularly unlikable character and dares you to look away.
Movie Info
Monologist Eric Bogosian's one-man theater piece Talk Radio, co-written by Bogosian and Tad Savinar, is searingly brought to the screen by Oliver Stone. Bogosian plays provocateur radio talk-show host Barry Champlain, whose constant espousal of his inflammatory views and ceaseless hectoring of his callers and listeners reaps equal parts love and hate. As his program rolls on, Champlain is revealed to be just as screwed up as any of his fans, if not more. And then he pushes one caller just a bit too far. In co-adapting the play for the screen, Stone interweaves elements of Stephen Singular's factual book Talked to Death, the story of a liberal Denver radio personality who was murdered at the behest of a militant right-wing hate group. One word of warning: if you're not a fan of the sort of radio depicted herein, chances are you won't warm up to this film.
News & Interviews for Talk Radio
Critic Reviews for Talk Radio
Audience Reviews for Talk Radio
"Sticks and stones can break your bones but words cause permanent damage" It's been difficult of late for director Oliver Stone to find a project that has the same spark or controversy of his earlier work. He was probably at his best back in the 1980's when he wrote the screenplay for Brian DePalma's Scarface and directed such visceral works as Salvador, the Oscar winning Platoon, Wall Street and Born on the Fourth of July. The one that seems to be least mentioned in his filmography, at this time, though, is the sadly overlooked, Talk Radio; his adaptation of Eric Bogosian's Pulitzer Prize nominated stage play. Barry Champlain (Bogosian) is a late night 'shock DJ' who doesn't mince his words when it comes to rebelling against the opinions of his many callers. Night after night he takes calls and the more he rebels, the more he finds that his abrasive statements and scathing personal opinions are nothing more than entertainment for a disillusioned American public. Maybe the reason this entry from Stone has been so overlooked is because it's not as culturally or historically significant as his aforementioned films. He's not trawling the war torn lands or jungles of El Salvador or Vietnam, nor even the frantic, greed-infused stock exchange. He's primarily stuck in one room - a small, pokey radio studio - and primarily focused on one man, making this essentially a chamber piece. But, don't be disheartened, this brings just as much drama with it's intense and claustrophobic exchanges. As expected, in such a minimal setting, the film is very much dialogue driven and this is largely at the command of a ruthless Bogosian. Whenever he's allowed to deliver his scathing rants and monologues (and there are many) the film has an energy and spark that makes for gleefully fraught entertainment. The callers add as much spice to the proceedings as Champlain though, and it gives Stone a chance to depict the dark underbelly of America. There are calls from psychotic white supremacists, lonely cat people, doped up Rock and Rollers and suicidal lovers. Champlain doesn't pull his punches, though, he obnoxiously attacks and challenges these people for their contribution (or lack of) to society in general and even when their thoughts hold up a microscope to the disturbed psychosis of society it also displays that Champlain, himself, is no less tortured than the one's he sarcastically chooses to insult. As a result, it becomes a scathing indictment of what's wrong with America. Each caller is a representation of it's greed, it's consumerism, it's self-righteousness and it's racism. But that's not all. Stone and Bogosian lure us in, challenging us to question ourselves and question our own contribution to society, our own politics and our own self-awareness. A highly charged and criminally overlooked film from Stone's catalogue. Dialogue driven it may be but this is a polemic who's bite is as ferocious as it's bark. Mark Walker
Mark Walker
Super Reviewer
Barry: You're fascinated by the gory details! You're mesmerized by your own fear. You revel in floods, car accidents, unstoppable diseases, you're happiest when others are in pain.That's where I come in isn't it? I'm here to lead you by the hand through the dark forest of your own hatred and anger and humiliation!  "The last neighborhood in America" Talk Radio is one of my favorite Oliver Stone films, and is one that few actually know about. It's an underrated and under seen film of immense power. It has a simple, straightforward narrative, but the actual material is anything but simple. This is a movie that will stick with you; one that is unforgettable. I just watched this for the second time, and I'm still amazed by how Stone and Bogosian suck me in with the character of Barry Champlain. The film is at its most interesting when only the character of Champlain is talking, and luckily, that is most of the movie. Talk Radio follows a talk radio host named Barry Champlain. Champlain's character is based on a real life host name Alan Berg, who was murdered after a show. Champlain has a night time show where rants his opinions to the people of Dallas, and most of them hate him for it. Yet they still listen and call in. Soon, Champlain's show is going to go national, so everyone in America can hear his opinions on drugs, racism, and anything else you can think about. Champlain is a character that you think would have a lot of strength. His voice and his opinions show strength. Yet, he starts to unravel with all of the hatred from callers.  Most of the film takes place in the talk room. There's a few scenes outside of the room, but very few. We are left with Bogosian as Champlain and all of his callers. Bogosian more than exceeds standards. He is simply amazing as Champlain. He wrote the original play, and co-wrote this script with Stone. The two of them brought the play perfectly to screen with a lot of power and a lot of intellect. The ending will leave you haunted more than anything. I don't think there's any better word to describe this film with, then haunting. I wouldn't know what genre to put this into. The closest one there is is drama, but even that doesn't fit it all that well. It has no real genre limitation. It's funny, it's sad, it's scary, it's honest. It's everything in one film and I love it for that. Talk Radio is a must see, and not just for film buffs, but for everyone. It's one of Oliver Stone's best achievements and pretty much no one has heard about it. Track this movie down and give it a look. 
Melvin White
Super Reviewer
When I was a kid I listened to talk radio (yes, I was THAT kid). The guy I listened to was He Who Goes Bump in the Night, Jim White on KMOX out of St. Louis. I think I stumbled on the guy after a Cardinals game. Jim White had been on the air in St. Louis for years and his shows were usually open format. Most callers were congenial, but every once in awhile a tirade would start either from a caller or from the host himself. There was the occasional Nazi or someone without a clue. These are the people that listen to the radio late a night. Check out Coast to Coast AM if you don't believe me. With Talk Radio we get to take a look at Barry Champlain (Eric Bogosian), a nigh time talk radio host who is no holds barred and tells it like it is even though most of his listeners don't like it. Most callers hate him. When he goes out in public his ridiculed. But his shows popular as hell. So popular he's about to go national. But is that what he really wants? National hatred. Barry's main argument to people is to turn off the damn show. That may be what you and I have in mind. But you have to remember the old story about a car accident. It's disgusting, it's horrible, but you sure as hell can't look away. You may hate what he says, but you just can't not stop listening to him because you have to know what he's going to say next. Oliver Stone directs this film base on Bogosian's play and the film does have some of Stones flourishes, but it's really a claustrophobic piece. By the end of the film you're ready to get the hell out of that studio. You feel as stuffy and confined as the characters and during the times you do get out it's not for a breath of fresh air or freedom, it's more of how the disease from the radio has spread. Excellent performances throughout featuring Bogosians best work to date. So many years late and Jim White's retired from the night time airwaves and the Cardinals aren't on KMOX anymore. I'm sure there's another guy at night buy he probably isn't as abrasive as White. Talk radio today is more user friendly with hosts chanting the mantras of the demographic they're designed for. Talk radio is a time capsule of those days when guys said what they though on the radio, not what was expected of them.
Chris Garman
Super Reviewer
Talk Radio Quotes
| | |
| --- | --- |
| Barry Champlain: | I don't want to hear anymore! Stop talking! |
| | |
| --- | --- |
| Barry Champlain: | Barry: [to a caller about the most powerful drug ever sold] It's tobacco. It kills 350,000 people a year. You know how much coke, crack, heroin, pot kill every year? Four thousand people. Will you listen to sense? Hello? Let me check. Will you listen to logic, please? The only people who benefit from prohibition... are the gangsters makin' the money on it, the politicians condemning it and gettin' your vote. And who foots the bill? You, Rhonda Q Sucker! |
| Barry Champlain: | [to a caller about the most powerful drug ever sold] It's tobacco. It kills 350,000 people a year. You know how much coke, crack, heroin, pot kill every year? Four thousand people. Will you listen to sense? Hello? Let me check. Will you listen to logic, please? The only people who benefit from prohibition... are the gangsters makin' the money on it, the politicians condemning it and gettin' your vote. And who foots the bill? You, Rhonda Q Sucker! |