The Tall Men
(1955)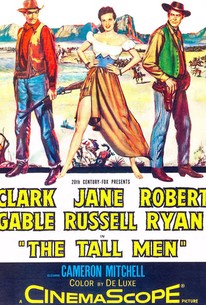 Movie Info
Clark Gable and Jane Russell star in this rugged widescreen western, exquisitely photographed by Leo Tover and directed by veteran action expert Raoul A. Walsh. Gable plays Ben Allison, who with his brother Clint (Cameron Mitchell) journeys to Montana in search of gold. They come upon wealthy businessman Nathan Stark (Robert Ryan), whom they try to rob of $20,000. Instead, Stark talks Ben and Clint into becoming partners with him on a cattle drive to Montana. As the group travels to Texas, they come upon a party of settlers being attacked by Indians. They save the saucy Nella Turner (Jane Russell) and she joins with Ben, who has been made trail boss, and Clint on the cattle drive. Ben and Nella are attracted to each other but after an initial fling, Nella rejects him -- Ben just wants enough money to buy a small ranch and Nella won't settle for slim pickings. Arriving in Fort Worth, Nella takes up with Stark, whose desire to make as much money as possible coincides with Nella's money-hungry ambitions. But when, at Stark's insistence, she accompanies him on the final trek to Montana, the seething friction between Ben and Stark erupts as the drive heads into dangerous Indian country. ~ Paul Brenner, Rovi
Critic Reviews for The Tall Men
Audience Reviews for The Tall Men
½
Standard oater with the main attraction being that grand Western vistas were filmed in bigger-than-life Cinemascope, and they are impressive indeed. The work is improved and highlighted by an epic fight against the Indians combined with a raging cattle stampede. Heady stuff. The cast is charismatic enough too, but here's what hamstrings this one up: they are all in stereotypical roles that telegraph the outcome of any interaction long before any of it happens. The whole effort is decent finally, but that's all.
Kevin M. Williams
Super Reviewer
½
Ordinary western dressed up with big stars.
The Tall Men Quotes
There are no approved quotes yet for this movie.