Talladega Nights: The Ballad of Ricky Bobby
(2006)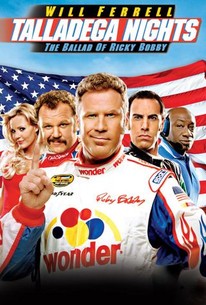 TOMATOMETER
AUDIENCE SCORE
Critic Consensus: Though it occasionally stalls, Talladega Nights' mix of satire, clever gags, and excellent ensemble performances put it squarely in the winner's circle.
Talladega Nights: The Ballad of Ricky Bobby Videos
Talladega Nights: The Ballad of Ricky Bobby Photos
Movie Info
When America's number one NASCAR speed-demon is issued a direct challenge from a gay, French Formula One racer with a hunger for the top spot and a mean talent for tight-cornering, the race is on to become the number one man in all of NASCAR in a full throttle comedy starring Will Ferrell and directed by Anchorman cohort Adam McKay. Ricky Bobby (Ferrell) is a national hero with a "smokin' hot" trophy wife, pair of borderline-abusively precocious sons, and an endless line of endorsement deals filling his mansion with toys and driveway with sports cars and Hummers. His racing partner and lifelong friend Cal Naughton, Jr. (John C. Reilly), never fails to provide him with a hand on the racetrack, frequently performing their trademark "slingshot" maneuver to shoot Ricky into first place, leaving Cal in second. While the public loves these buddies (popularly known by the meaningless childhood nicknames they find so exceedingly cool: "Shake and Bake"), a wedge comes between the two, as Ricky Bobby's longstanding winning-streak is broken by flamboyand French Formula One driver Jean Girard (Sacha Baron Cohen), robbing Ricky of everything in an instant as the trauma leaves him unable to drive. Ricky's wife takes his fortunes while Cal takes his wife, and now he's back with his mother (Jane Lynch) and long-estranged father (Gary Cole). Things look bad for Ricky, but his father was once a race car driver himself, and now with the help of a training montage, a live cougar, and the courage to drive without his gleaming white Wonder Bread endorsement, Ricky might be ready to face the track again. ~ Jason Buchanan, Rovi
Critic Reviews for Talladega Nights: The Ballad of Ricky Bobby
Audience Reviews for Talladega Nights: The Ballad of Ricky Bobby
To me NASCAR is one of the most boring things to watch, but the movies on racing and NASCAR are awesome, and this movie is definitely no exception, in fact, I'd say its one of the funniest and best racing films of all time, and one of the funniest movies of Will Ferrel's carrier. To me everything in this film works, the timing of the lines, the jokes are all hysterical, the acting is fun and entertaining, and some of the racing is pretty entertaining. Sacha Baron Cohen as always is fantastic, though I wish I could here what he actually sounded like rather than an accent like in every movie he is in. This is also to me one of the most quotable comedies of all time, my favorite line being by Cohens character "Hakuna Matata, BEETCHES."
Michael Edwards
Super Reviewer
A film with just as much obnoxious hysteria than the main character. Will Ferrell provides a flavorful laughter that sticks to you no matter the amount of random-pun it may present. The enticing blend of comedy and racing is an excellent motion picture that reaches the finish line in grand fashion. 5/5
Eugene Bernabe
Super Reviewer
Ferrell films can vary from one end of the scale to the other, he can be funny and ingenious or a complete annoying twat, unfortunately many of his films do come under the 'annoying twat' label for me. This is not funny, Ferrell's worst by far, it may be because car racing just isn't a great source material for a comedy, I dunno. Cohen is very good as the French racer, he comes across quite well, almost like a kind of dastardly Disney baddie in the realms of 'Thorndyke' in 'The Love Bug' but the rest is just silly and simply unfunny. The characters are all rather un-likeable too, it just seems Ferrell is trying to make a comedy out of every 'sport', and this isn't even an interesting 'sport', NASCAR is dull dull dull if you ask me, but I am British, if you like this type of racing you may like it.
Phil Hubbs
Super Reviewer
Talladega Nights: The Ballad of Ricky Bobby Quotes
| | |
| --- | --- |
| Ricky Bobby: | (realizes his wife is marrying Cal) Are you serious!? I was gone for three hours! |
| Ricky Bobby: | Are you serious? I was gone for three hours! |
| | |
| --- | --- |
| Ricky Bobby: | Save me Tom Cruise! |
| | |
| --- | --- |
| Reese Bobby: | You've gotta learn to drive with the fear. There ain't nothin' more frightenin' than drivin' with a live cougar in the car. If you're calm, that wonderous big cat will be calm too. But if you're scared, that beautiful death machine will do what God made it to do, namely, eat you with a smile on its face. |
| | |
| --- | --- |
| Chip: | Ricky, remember: The fieldmouse is fast, but the owl sees at night. |