Tamango
(1958)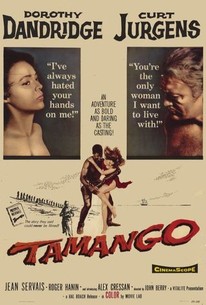 AUDIENCE SCORE
Critic Consensus: No consensus yet.
Movie Info
Set in 1830, Reinker, captain of a slave ship, attempts to deliver Africans without incident to Cuba. During the voyage, he falls in love with Aiche, a native woman who soon strays on account of Reinker's lack of affection. Meanwhile, Native warrior Tamango plans a revolt which gathers momentum and calls for Reinker to take action. Directed by John Berry, Tamango features Dorothy Dandridge, Curt Jurgens and Alex Cressan.
Critic Reviews for Tamango
All Critics (2) | Fresh (2) | Rotten (0)
From a historic perspective, if not an artistic one, the film deserves to be sought out and reconsidered.
October 5, 2007 | Rating: 3/5
Audience Reviews for Tamango
A movie that, in 1958, at last began to approach the real horror of slavery, and gives us a suspenseful story besides. A group of Africans is taken aboard a Dutch slave ship in 1820, and their leader, Tamango (Alex Cressan) begins planning a rebellion, at first rather quietly, with what is practically civil disobedience - not eating the food. The film does a fantastic job at humanizing the Africans, and we see their reactions to be what any other captive group's would be, covering a wide range - despair, fear, submission, bravery, and intelligent scheming. We see the outright cruelty on the part of the slavers - throwing a man overboard to make an example to the group, hanging another, and leaving Tamango out in the sun as punishment - but to director John Berry's credit, it's not overdone, and we see the human side of these people as well, in their conversations and little moments. Far more insidious is the pervading view of racial superiority, so that underneath what is apparent civility is a monster, one that views others as property, and of no more value than that. To those who cringe because Dorothy Dandridge is a "mistress" or is involved in an "interracial romance" because they believe it takes away from the central message of the film, I ask that you look again - she's a slave, owned by the captain of the ship, and forced to have sex with him. She makes what she really thinks of him very clear when he dupes her into thinking he's written out orders for her freedom. I think it does the film a disservice to see her involvement with the man as willing, and it does Dandridge one as well, since the actress fought for changes to the script to make this point clear. It's ironic that the miscegenation that got the film banned by conservatives in the United States upon its release in France, is today decried by liberals as a weakness, when neither group seem to fully recognize the main point of the film, and what Dandridge's (admittedly conflicted) role was. With that said, there is something a little off about the film as a whole - probably the dialogue, which seems a little stilted at times (even allowing it the shortcut of not showing the usage of translators between languages, and has everyone speaking English). The acting itself is fine, and it's well cast. It's a shame that this was Alex Cressan's only performance, because he has such strong presence. Dandridge was at the height of her powers, and while that sadly had very little roles coming her way even after her fantastic performance four years earlier in 'Carmen Jones', she's a joy to behold here. Curd Jürgens is great as well as the captain, and the staging about the ship is reasonably realistic as well. If you look at a list of films which portray slavery sorted by year, you'll see 'Tamango' is one of the earliest to show it honestly, and for that, it deserves respect. The film feels ahead of its time, and I admire blacklisted director John Berry's courage. He went to Europe and made a film that certainly didn't make him more loved in America because of its scenes with Dandridge and Jürgens kissing, and because of its realistic portrayal of slavery - something Hollywood and America were still having a hard time coming to terms with. Not perfect, but a very good film, and deserves to be better known.
Antonius Block
Super Reviewer
Tamango Quotes
There are no approved quotes yet for this movie.