Tammy and the Teenage T-Rex
(1994)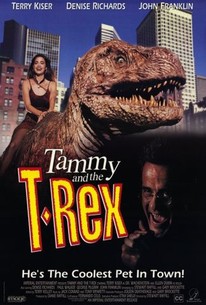 Tammy and the Teenage T-Rex Photos
Movie Info
A bizarre entry even for an area of film that specializes in the offbeat, this is the story of an ideal teenage couple, a cheerleader and a jock, who are abruptly separated when a jealous rival slays the footballer. At the hospital, a crazed doctor transplants the young man's brain into that of a giant robotic dinosaur as part of his immortality-via-cobras experiment. Unfortunately, the newly transplanted boyfriend is most unhappy with his new form and with the way things have turned out in general, so he goes on a bloody rampage for revenge. When he finds the cheerleader, he is somehow able to convey his plight to her. She and a pal decide to help him by finding a new body in which to place his brain (his old one was beyond repair). While the low-budget Tammy and the T-Rex has been for some reason marketed as a family-oriented comedy, parents beware. There is a lot of blood, violence, crude sexual innuendo and a striptease scene.
Critic Reviews for Tammy and the Teenage T-Rex
Audience Reviews for Tammy and the Teenage T-Rex
A monstrously bizarre movie that I loved for some reason. First of all, it looks like some kind of kids film. I guessed Denise Richards would find a dinosaur egg, raise it, the government would want it etc. I couldn't have been more wrong. This was a mid-nineties Frankenstein, filled with adult themes handled in an immature way. Richards ex-boyfriend is an obsessive violent freak, that has no regard for the law. To the point where he leaves Walker in a safari park where he is savagely attacked by a lion. An evil scientist then kidnaps the body (after announcing Walker dead), and puts Walker's brain in a robotic dinosaur. He escapes, kills out of anger, before remembering his love for Richards. Yes, this is terrible, but due to some of its twists and turns, it's just compelling. Richards has a gay best friend that is the son of the sheriff. Some of the other police in town ridicule him behind his back with homophobic comments. When they go to find Walker body to put the brain back in, they find it decayed and rotted, with maggots everywhere. When they look for an alternative body at the morgue, Richards checks out the cadavers penis size to see if she would approve. The kills are often quite violent, before being played for comedy. A man is flattened, and is later rolled up like a poster. It climaxes with a bizarre "climax" (wink,wink) which you must see to truly appreciate. This is honestly like a person tricking his way into your affections so that he can corrupt your kids. It's too dark for them, but too childish for you. Kind of like Michael Jackson.
Luke Baldock
Super Reviewer
Tammy and the Teenage T-Rex Quotes
There are no approved quotes yet for this movie.