Tampopo
(1985)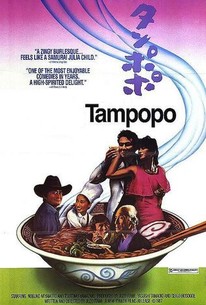 TOMATOMETER
AUDIENCE SCORE
Critic Consensus: Thanks to director Juzo Itami's offbeat humor and sharp satirical edge, Tampopo is a funny, sexy, affectionate celebration of food and its broad influence on Japanese culture.
Movie Info
The tale of an enigmatic band of ramen ronin who guide the widow of a noodle shop owner on her quest for the perfect recipe, Tampopo serves up a savory broth of culinary adventure seasoned with offbeat comedy sketches and the erotic exploits of a gastronome gangster. Sweet, sexy, surreal, and mouthwatering, Tampopo remains one of the most delectable examples of food on film.
Critic Reviews for Tampopo
Audience Reviews for Tampopo
½
Tampopo is a light-hearted feel-good comedy with a heavy focus on making a winning bowl of ramen and setting up a great shop. There were quite a few bits I found to be random which were probably cultural references but if you are amused by randomness then you'll find they flow in with the rest of the general wackiness. While I don't rate it quite on the level of Cantonese comedies such as the God of Cookery, Tampopo is still a fun view.
Robert Brogan
Super Reviewer
A timeless feast for the senses, saw it twice in college with friends. We ate ramen before watching it, but still left in the middle of the movie to go get more. It will taunt your appetite and twist your salivating imagination around its chopsticks until your craving can't hold out any longer. Hilarious and very Asian vignettes about the cultural importance of food in a Japan that's trying to westernize without losing its Nippon identity. (The beggar foodies especially reminded me of the Chinese wuxia stories.) And it's a delight to watch the sweet, understated chivalry between Goro and Tampopo.
Letitia Lew
Super Reviewer
½
Juzo Itami creates one piece of work in Tampopo, a film that centers around ramen. This movie will make you hungry for noodles. I don't care if you are sick or you just ate. You will be hungry for noodles.
When it comes down to it, this film is about a group of people that help turn a middle aged woman's cheap ramen shop into the best one in town. However, there is much more in this movie than just that. Why? I do not know. The beginning starts off with a man talking to the audience (you) about manners while watching a movie. The opening credits is then in black and white and finally we are under way.
The story is interesting and there is sort of a childish tone to it, which keeps things fun. Speaking of fun, throughout this film there are scenes that have just no meaning in here. There are a few love scenes, an old woman in a grocery store, a man rushing home to his dying wife, etc. The ONLY thing these scenes have in common is food. The love scenes involve food as an aphrodisiac. There is nudity and all. The old woman in the grocery store is smashing food with her fingers. The man rushes home to his dying wife so she can cook her last meal. Why are these scenes there? To make the movie longer? To make the story more entertaining? No matter the reason, they are there and they will get people laughing.
Nobuko Miyamoto and Tsutomu Yamazaki both carry this movie nicely and the supporting cast follow their leaders.
Tampopo is one film that is hard to pass up. Also, what is up with the end credits?
Tampopo Quotes
There are no approved quotes yet for this movie.