Tank Girl
(1995)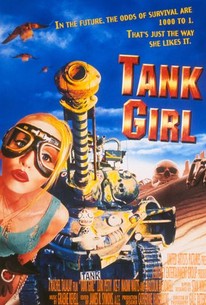 TOMATOMETER
AUDIENCE SCORE
Critic Consensus: While unconventional, Tank Girl isn't particularly clever or engaging, and none of the script's copious one-liners have any real zing.
Movie Info
This wild, futuristic action-fantasy is set in the year 2033 where drought and pollution have turned the Earth into a desert wasteland. The planet's water supply is controlled by a despotic company that is opposed by a few courageous rebels who regularly risk their lives to poach the precious fluid.
News & Interviews for Tank Girl
Critic Reviews for Tank Girl
Audience Reviews for Tank Girl
I think this is the perfect example of an idea that worked better as an animated movie. Problem for this live action film is there are numerous animated sequences within the film which prove without a doubt that animated was definitely the way to go. Credit where its due Lori Petty did a good job as the unhinged off the wall 'Tank Girl' with her ticks and facial madness. The film suffers from lack of originality and poor visuals throughout but Petty does manage to hold it together with her seductive emo like appearance and cute one liners. This film suffers much like 'Johnny Mnemonic' (both 1995) in the fact they both show the usual unimaginative distopian future run by evil companies (or people) with the same types of ideas. 'Tank Girl' is much more obviously comicbook orientated with in your face flashy bizarre styles, fashions and attitude but the overused apocalyptic future thing lets them both down and always comes across as cheap n tacky looking if not done right. Plot is basic and McDowell simply isn't much of a villain. There is never much of a threat going on, nothing to engage you and nothing to treat your eyes. The 'Rippers' (mutant kangaroos) also look pretty terrible and more like something from a bad 'Teenage Mutant Ninja Turtles' sequel but I did quite like the hologram idea for McDowells's villain towards the end, nice effect surprisingly. As said before the animated sequences are far superior to the rest of the film, maybe a reboot is in order.
Phil Hubbs
Super Reviewer
½
God this movie is so 90s. Hell, depsite the fact that this is a kooky, ridiculous mess, the fact that it is so 90s is probably what makes it sorta charming and fun in its own way. I can definitely see why this is a cult favorite (for some). Yeah, this adaptation of a comic is bad, but it's never boring. The performances are over the top, the movie's got a plot that's all over the place, and there's some really odd editing and a messy script, but, the film has some killer needle drops, it's got a fun charm to it, the actors look like they had a lot of fun making this, the costumes and sets are just kitschy as all hell, and pre-fame Naomi Watts is quite nice looking. The plot has something to do with water shortages in a post apocalyptic world with rebels going against an evil megalomaniac, but none of that really seems to matter. The punk attiiude, crazy art direction and the camp value just seem to take priority, but in the end, you could find far less interesting films to watch than this one, even though I'm sure a far more focused and competant adaptation is probably what fans really want.
Chris Weber
Super Reviewer
½
A lot of people tend to dismiss this movie because of it's "comic book" feel and comic-book (really) transitions. I enjoyed this movie a LOT, as it has the same "feel" as the original comic books I remember reading, and the same style of humor. It's very well done for 1995, the dialogue is well-scripted for the intent of the movie, and the funny stuff is actually funny. Some of the action scenes are a bit "campy" - but then again, they're *supposed* to be that way in this kind of movie. In addition, I thought the acting was excellent, and that Lori Petty (who played "Kit" in "A League of Our Own) Malcolm McDowell (practically legendary) and Naomi Watts were excellent choices for their characters, as were the rest of the supporting cast. Lori Petty hasn't been in anything "huge" since this movie, which is truly a pity as she is an excellent and versatile actress. Look for some interesting supporting actors, including Ice-T, Iggy Pop, and James Hong. Listen to the comedic dialogue carefully - most of the punchlines are funny on several levels, which I found most refreshing, and you'll encounter a lot of funny double-entendre. Don't look for a bunch of CGI computer effects in this movie. However, well-designed and imaginative props and sets give a good feeling of "authenticity" to the scenes, and the visual and special effects are excellent. Don't bother critiquing little details and spurious claptrap like that with this movie - it sets out to be a comic-book-style fun action-adventure and accomplishes that goal magnificently. (The funniest thing is that the plot precept of a mega-corporation in control of the world's water supply is becoming more and more of a plausible idea and leads one to think of a possible metaphoric reference to the world oil situation) This movie might have been rated "R" at the time for adult situations & violence (and a little nudity), but I didn't notice a whole lot of "foul language", and I didn't really see much in the movie that wouldn't be put on broadcast TV today. This movie has everything - good acting, evil villains, cute heroines, mutants, cool vehicles, explosions, big sets, a huge supporting cast, hilarious humor, great stunts, and even a classic musical number with a full chorus line! ("Let's Do It" by Cole Porter) It even pokes fun at beat poetry. All-in-all, well worth seeing. If you like stuff like "The Wizard of Speed and Time", "Flash Gordon", "Johnny Mnemonic", "Space Truckers", "Ice Pirates", or "Yellowbeard" then you'll definitely love this movie. Even if you don't, see this movie anyway - it may change your mind about this genre. From personal experience: "Chicks dig this flick." Get the popcorn & enjoy.
MisterYoda ?
Super Reviewer
Tank Girl Quotes
| | |
| --- | --- |
| Rebecca Buck: | I'm gonna hit you so hard, you're children will be born bruised! |
| Rachel Buck: | I'm gonna hit you so hard, your children will be born bruised! |