Tape
(2001)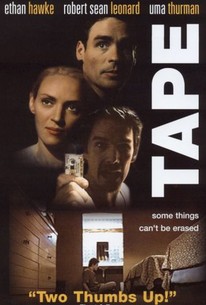 TOMATOMETER
AUDIENCE SCORE
Critic Consensus: Tape's stagebound feel is balanced by the engrossing psychodrama of its storyline, which allows a committed cast to shine.
Movie Info
Within the confines of a tawdry motor lodge in Lansing, Michigan, three old friends come together to play out the unresolved drama of their final days in high school. John, a first-time filmmaker, is in Michigan to present his film at a local film festival. Vince, now a volunteer firefighter and small-time drug dealer, comes to support John on his big day, or so it seems. But after their initial greetings, an undercurrent of tension remains. Gradually, it becomes clear that Vince still resents what he sees as John having stolen his girlfriend years before, and as the two men debate, a more serious accusation emerges.
News & Interviews for Tape
Audience Reviews for Tape
"I'm not high and mighty. I'm too high to be high and mighty" As a companion piece to the marvellous Waking Life, director Richard Linklater delivered this experimental and solid little adaptation of Stephen Belber's stage play. Some may not have even heard of this one, let alone seen it as it's probably one of his most unseen works. As always with Linklater, though, it confirms his place as one of the most original and under appreciated of American filmmakers. Jon (Robert Sean Leonard) is a local boy who catches a big break as an actor and returns to his home town to attend a film festival where he is appearing in a new movie. At a motel he meets up with Vince (Ethan Hawke), his old high school friend. However, Vince hasn't changed a bit and seems intent on bringing up things from the past which Jon seems happy to let go of. When (Uma Thurman), another friend from school appears, things don't quite add up as their past relationship has more to it than some of them care to admit. Set entirely within the confines of a small, cheap motel room with bad decor, Linklater's ingenuity is apparent from the offset. He shoots on digital video achieving a true minimalism that fully captures the feel of a stage play. There's no music score or elaborate sound effects, but only the highly charged, back and forth interaction between Hawke and Leonard (reuniting after Dead Poets Society). This might not sound too appealing on the surface but it's entirely effective for the material and the inclusion of an old flame in Thurman, adds a captivating edge to the overall purpose and motivation of the three-dimensional characters. As a chamber piece, dialogue is the order of the day here and it's sharply written and tensely delivered by all three cast members. Their awkwardness is apparent in their exchanges and they have us constantly wondering who to side with while Linklater utilises his environment to marvellous effect. In such a confined space, his movement with the camera is very impressive and he fully captures the claustrophobia and tension to perfection. Sometimes Linklater will delver a film that just doesn't receive the recognition it deserves and Tape can certainly be included among these. Criminally overlooked upon it's release (and since) as this is a brilliantly realised adaptation that benefits from strong performances, inventive direction and maintains it's intensity right to the very end. Mark Walker
Mark Walker
Super Reviewer
½
Amy: People change. They end up having nothing to say to each other even if they were best friends years before.  "Some things can't be erased" Tape is a very simple film technically, and the simplicity of it is what ends up making it so damn compelling. We're given three characters and one setting, and are left there for the whole film. The acting was good by all three, but I thought Uma Thurman was the standout here. Ethan Hawke and Robert Sean Leonard were good, but nothing about their performances were amazing.  Tape takes place in a motel room. For the first 30 minutes or so we are just given Jon and Vince. At first it is just two friends catching up after 10 years. Then Vince begins to probe Jon for details about what he did with Amy. Amy dated Vince during high school, then Jon for a little bit at the end. Vince seems to think that Jon raped Amy. The compelling nature of all this becomes even more elevated when Amy arrives invited by Vince.  This is an all dialogue movie with absolutely no gimmicks or action. It reminds me most of the movie The Big Kahuna, not because of the subject matter, but because of how it is presented. This is Richard Linklater at his roots. It's closer to Slacker then to movies that we find extremely entertaining like Dazed and Confused or School of Rock. This definitely isn't for everyone. I found it extremely compelling, but I would find it easy to believe if you found it boring. Movies where any action at all is void from the plot make for polarizing films. Linklater is effective with what he is doing with Tape. It's oddly compelling in the way we sit and watch three characters in a claustrophobic room trying to come to terms with something that happened ten years ago. There feels like there's no escaping it, and there's not. You can't escape the past easily, and I guess if there's a point to Tape; that would be it.
Melvin White
Super Reviewer
The movie is quite a good (tensed) dramatic presentation specifically considering that it relies merely on two characters for most of its screen time with one addition later. Although it does lose its grip at times, all in all, it's a commendable piece (special thanks to the actors).
familiar stranger
Super Reviewer
Tape Quotes
There are no approved quotes yet for this movie.