Tapeheads
(1988)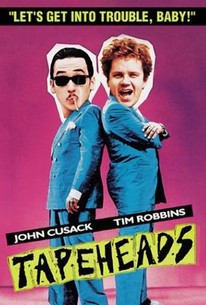 Movie Info
John Cusack and Tim Robbins star as Ivan Alexov and Josh Tager, security officers who lose their jobs and decide to put together their own company producing videos. After taping a bunch of odd assignments including a fluke music video that is tremendously successful, they unknowingly have taken a private video of a politician who hopes for presidential election. This leads to Secret Service involvement, and chaos ensues. Another film, Bob Roberts, is a film spun from the conservative politician/singer character in Tapeheads which also sports Tim Robbins in a leading role. Featuring a healthy soundtrack and cameos of various music-industry celebs, this comedic romp was directed by ex-music video man Bill Fishman.
Critic Reviews for Tapeheads
Audience Reviews for Tapeheads
I love this movie, and it's virtually unheard of! It has two big stars: Tim Robbins and John Cusack, as two unemployed friends who start a music video production company, and the craziness that occurs along the way. It's really fun and entertaining, and very funny. It's one of my favourite movies from 88.
½
John Cusak's stash is the funniest thing I've seen on a human being. This movie is another buddy 80's movie and if you don't enjoy those then you probably won't like this. It does have a lot of heart and Mike Myers pretty much stole this idea for Wayne's World and gets ZERO credit.
Conner Rainwater
Super Reviewer
Jason Spencer
Super Reviewer
Tapeheads Quotes
There are no approved quotes yet for this movie.