Targets
(1968)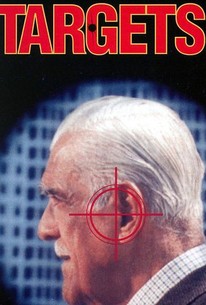 TOMATOMETER
AUDIENCE SCORE
Critic Consensus: A startling directorial debut by Peter Bogdanovich mixes an homage to Boris Karloff horror films with a timely sniper story to create a thriller with modern baggage and old school shock and awe.
Movie Info
Together with Orson Welles' Citizen Kane and John Singleton's Boyz 'n the Hood, director Peter Bogdanovich's Targets is among the most impressive first features ever made. When Bogdanovich's cinematic mentor Roger Corman suggested that Bogdanovich might want to make his directorial debut, he offered to "donate" 20 minutes worth of footage of the Corman-directed The Terror and the services of Boris Karloff, who owed Corman two days' worth of work (at a cost of $22,000). Karloff became so caught up in the 29-year-old Bogdanovich's enthusiasm that he agreed to work an additional two days at a bare-minimum salary. The script, by Bogdanovich and his then-wife, Polly Platt, was inspired by the 1966 shooting spree of Texas Tower sniper Charles Whitman. Karloff, as Byron Orlock, more or less plays himself: an aging horror star, consigned to low-budget drive-in fare. Unlike the workaholic Karloff, Orlock wants to retire from films, noting that his movies seem inconsequential in light of the real-life horrors occurring every day. As Bogdanovich, playing young-and-hungry director Sammy Michaels, desperately tries to convince Orlock to star in just one more picture, the film's attentions shift to Vietnam veteran Bobby Thompson (Tim O'Kelly). An otherwise amiable, normal-looking lad, Bobby seems to harbor an inordinate fascination with guns, particularly high-powered rifles. One bright and sunny morning, Bobby suddenly and unexpectedly shoots and kills his wife, his mother, and an unlucky delivery boy. He leaves behind a note confessing to these crimes, noting that, while he fully expects to be captured, many more will die before the day is over. From this point onward, the film switches from Bobby's day-long bloodbath (from the vantage point of an oil storage tank, calmly picking off passing freeway motorists) to Orlock's grumbling preparations to make a personal appearance at a local drive-in movie. Inevitably, Bobby also shows up at the drive-in, hiding himself behind the huge screen and shooting down the patrons as they sit complacently in their cars, watching the latest Byron Orlock film (actually The Terror, in which Karloff also starred). Once the reality of the situation sets in, panic ensues, leading to the ultimate confrontation between the escaping Bobby and the bewildered Orlock. ("Is this what I was afraid of?" Orlock ruefully exclaims as Bobby cowers at his feet.) The tension never lets up throughout Targets' jam-packed 90 minutes. The film was virtually thrown away by its distributor, Paramount Pictures, which was uncertain about packaging a film about a sniper in the wake of the King and Kennedy assassinations. Only when it was reissued to college campuses and film societies did Targets begin building up its much-deserved reputation. Though Targets was not, technically, Boris Karloff's last film, it serves as a worthy valedictory for this cinematic giant. ~ Hal Erickson, Rovi
Critic Reviews for Targets
Audience Reviews for Targets
½
A intelligent, slow burner that has a brilliant ending. You can follow it from the start and keep guessing as to what will happen as the characters stories intertwine with each other. Brilliant performances and a great watch.
Sophie Burgess
Super Reviewer
One of the most impressive and yet overlooked debuts. From Roger Corman's pupil Peter Bogdanovich, pulling off the job with the same guerrilla filmmaking techniques of his master, a very tight budget and shooting schedule. Crafty and unique way of storytelling and montage (Sam Fuller did some uncredited dictations) An intense motion picture that analyses our perception on violence, real and fictitious; and juxtaposes the lives of two men as an example of both. their own particular downfall, and how they converge in a thrilling third act. Full of Bogdanovich's cinephilia all over, and two outstanding performances by the leads, the little known Tim O'Kelly and the immortal horror star Boris Karloff.
Pierluigi Puccini
Super Reviewer
½
Has some great scenes but, all in all, isn't all that captivating.
vieras esine
Super Reviewer
Targets Quotes
There are no approved quotes yet for this movie.