Tarnation
(2004)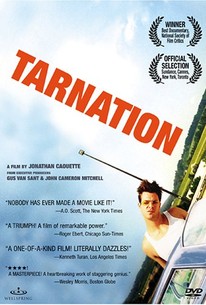 Movie Info
Part documentary, part narrative fiction, part home movie, and part acid trip. A psychedelic whirlwind of snapshots, Super-8 home movies, old answering machine messages, video diaries, early short films, snippets of '80s pop culture, and dramatic reenactments to create an epic portrait of an American family travesty. The story begins in 2003 when Jonathan learns that his schizophrenic mother, Renee, has overdosed on her lithium medication. He is catapulted back into his real and horrifying family legacy of rape, incest, abandonment, promiscuity, drug addiction, child abuse, and psychosis. As he grows up on camera, he finds the escapist balm of musical theater and B horror flicks and reconnects to life through a queer chosen family. Then a look into the future shows Jonathan as he confronts the symbiotic and almost unbearable love he shares with his beautiful and tragically damaged mother.
Critic Reviews for Tarnation
Audience Reviews for Tarnation
Bits of unbearable information brought to us by Jonathan Caouette, a man who truly has had a horrific lot in life. It results in a deranged drug user who captures all of his grief through home movies and other forms of media to shock the viewer.
John Ballantine
Super Reviewer
½
If someone were to tell you to go make a movie using iMovie, anyone would say no problem. If they told you to make a full length feature using iMovie, most people would stop in their tracks and not continue on. I mean, it's a task that is doomed to be incredulous Even wanting to do so may end up disastrous. However, iMovie alone is not an issue with Jonathan Caouette. Using iMovie with old VHS tape clips and answering machine messages, along with digital recordings and photographs, that cover twenty years of history is something else entirely. Caouette has not only enough passion, but enough absolute grief, to turn Tarnation away from being a sloppy home movie and into an experimental nightmare: One we do not want to take part in but we still feel the need to observe. Caouette has lived a rough life. He did not know his father until he was in his 30's. His mother was given electroshock treatment for no legitimate reason and she became mentally unstable and, well, crazy for a lack of a better word. Caouette was abused in a foster home. There is oh so much more that has happened to this man. He comes out as a homosexual when he was a young kid, but this actually appears to be the least troublesome event for him. He showcased his strength from an early age and used it as a drive of determination. As more and more happen to him, we ask ourselves "are things getting worse, or are the better now that he can cope with them?" The avant garde style is not only uncomfortable at times, it is in fact disturbing. The creepy sounds of reverb seem to always compliment the flashing, extreme close ups of disturbing images such as his grandmother's last days as she slowly goes insane, and a woman, presumably either his mother or a woman representing her, undergoing Electroconvulsive treatment. I am fairly desensitized as there is not one single horror movie that can scare me or even creep me out, but Tarnation struck some chord in my mind. There were moments where I was too scared to see what is going to happen next, presumably like the young Caouette himself. As the movie progresses, it gets less experimental and more home video-like, as Caouette shifts from a scared teenager to a stable adult and possibly into a scared adult. This movie is a ride and a half. Caouette is artistic in all senses of the word. His excruciating, never ending nightmare ends off on a bittersweet note as, like him, we can only keep our heads up even with an unhappy ending. This movie is particularly wonderful because of how it breaks the rules, both with documentaries and with home editing software (possibly even free software). Caouette proves that you don't always need the most or the best equipment to make a movie. Sometimes all you need is the drive and the purpose. Final Rating: 9.2/10
Andreas Babs
Super Reviewer
½
A little too self-indulgent at times to be considered a "documentary", but all in all a very creative and moving look at life. Once you let go and just go along for the ride...you are off on a journey into the psyche of a family in turmoil. It's not always an enjoyable journey, but it is one in which (after being led through a gamut of emotions) you are ultimatley led back to the point of origin, which is love. A great reminder of the fact that while we can not choose our families...we are (ultimatley) in control of just how much we allow them to adversely effect our lives as adults. One of the tough questions that we all have to deal with at some point is: At what point do you let go of all of the negative family baggage (that we all carry to some extent) and decide to start living your own life and making decicions based on doing what is best (and most helathy) for you? These are some of the hard choices in life and this film really makes you think about them.
Tarnation Quotes
There are no approved quotes yet for this movie.