Tart
(2002)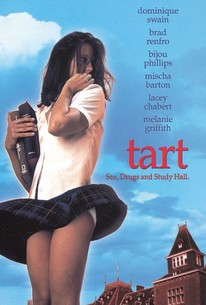 AUDIENCE SCORE
Critic Consensus: No consensus yet.
Movie Info
Cat Storm (Dominique Swain) is a bored high school girl in New York City who follows her petulant, rich friends from one coming-of-age adventure to another. They experiment with cruelty, rudeness, brazenness, and idiocy before moving onto sex and drugs. Cat's best friend, Delilah (Bijou Phillips), is kicked out of school for using cocaine (her father's), forcing Cat to become best friends with Grace (Mischa Barton), who guides her into the arms of William (Brad Renfro), the boy Cat's had a crush on for some time. Eventually they all wind up at a luxurious country estate for a weekend of drugs, passion, and, inevitably, gruesome murder.
Critic Reviews for Tart
All Critics (3) | Fresh (1) | Rotten (2) | DVD (4)
If it could make up it's mind what it wants to be, we might have a decent enough film here
September 17, 2002 | Rating: 2/5
A grating exercise... a director in love with her own material.
March 17, 2002 | Rating: 2/5
Audience Reviews for Tart
An Upper East Side high school girl falls in with the wrong crowd. Tart is an uninspired mess. First, in terms of character construction, there is a lot of mention of these characters' age, but they act like grown-ups, complete with the suit jackets and sipping on whiskey -- they're not just grown-ups; they're cliched grown-ups. And are they rich? They act like it, mentioning their parents as magnates of big businesses, but Cat's argument about the money for the dance and their surroundings are decidedly lower class at times, a mixture that produces confusion, not complexity. Second, the dialogue is stilted and delivered like amateur actors are auditioning for community theater. Finally, the plot is thoroughly predictable until it turns into a Lifetime movie at the very end; the final resolution has almost nothing to do with the rest of the film's conflict. Overall, this film is without a redeeming element; even Bijou Phillips's beauty can't serve as a refuge from the shit that surrounds her.
Jim Hunter
Super Reviewer
A very misleading title and cover art. This turned out to be about a young woman, Kat (Dominique Swain), trying to fit in at her exclusive private school in NYC. The crowd she runs with can be very fickle; the boys are out to get what they can and the girls are quite catty. Kat's best friend, Delilah (Bijou Phillips) is a real rebel and circumstances cause them to part ways at a critical juncture in both their lives. Kat looks for acceptance everywhere and thinks she finds it in the arms of a dangerous young man. Tragedy ensues and lives are forever changed and some are destroyed. This was well done with several fine performances. Kat's mother, played by Alberta Watson, was especially finely turned. The conflicts between a mother who wants what is best for her child and can't afford it and the young woman longing to find her place in an uncaring world was, for this viewer the glue that held this together. Look beyond the surface. What you find may be frightening, but ultimately will serve to assist in the eternal search for significance. Family is sometimes the only safe harbor. A surprising four stars.
Mark Abell
Super Reviewer
This independent catastrophe falters in every area that we grade films on. Boring, pointless and entirely unnecessary, this one would have been just as well off if it were nonexistent. Stupidly directed, atrociously penned and acted with the simplicity of jr. high drama students.
Tart Quotes
There are no approved quotes yet for this movie.