Tartuffe
(1925)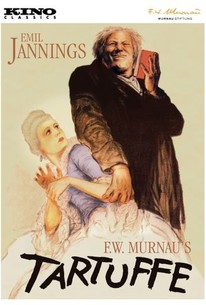 Movie Info
In this film, Emil Jannings plays the title character, a religious hypocrite who capitalizes upon the piety of others to line his own pockets. Lusting after Elmire, the daughter of gullible millionaire Orgon, Tartuffe all but convinces Orgon to hand over Elmire in exchange for divine absolution.
Critic Reviews for Tartuffe
Audience Reviews for Tartuffe
I love how this movie uses Tartuffe as a story within a story to warn the audience of hypocrites. The character who's saying it, breaks the fourth wall to tell us this warning as well, which was cool. Plus the expressionistic style isn't as pronounced as in some other films, but it's there. Especially in the guy who plays Tartuffe. Murnau sure made some interesting films, I recommend seeing this movie, it's good.
It was a silent movie, the first one I've ever seen. I think that it was pretty enjoyable actually. They sure picked a creepy guy to play Tartuffe.
Tartuffe Quotes
There are no approved quotes yet for this movie.