Tarzan II
(2005)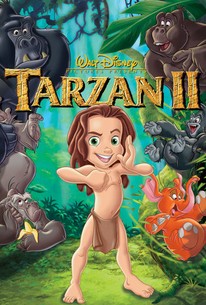 Movie Info
The direct-to-video sequel Tarzan II continues the story started by Disney in the 1999 animated feature Tarzan. This story involves Tarzan deciding to get away from his family out of concern that harm may come to them simply because of all the interest in him. Thanks to a series of adventures with his animal friends, Tarzan learns the true value of family. The film contains new songs by Phil Collins, who was awarded an Oscar for his work on the original 1999 film.
News & Interviews for Tarzan II
Critic Reviews for Tarzan II
Audience Reviews for Tarzan II
The tale of Tarzan's misadventures as a boy as he searches for his true identity and the meaning of family. Good movie. The movie is really well made but it's more for a kids audience then to a adult audience. At times it felt boring but i got it anyways. This wasn't a very good sequel but it was decent anyways. Give it to your kids to watch it, I know they'll like it. Set back when Tarzan was just a boy, this is the story of Tarzan's journey to self-discovery. When Tarzan begins to see that he is not like the other gorillas, his mother Kala assures him that these slight differences only make him stronger. But when these differences put Kala in danger, he decides everyone would be better off without him and runs away. He then finds himself in a dark desolate land called Dark Mountain where he meets a new friend who helps him discover that even though he does not possess the talents of an ape, he has his own unique set of jungle skills that make him even more amazing than any other creature so that he can finally see who he truly is.
½
While it's not fair to have different scales for different movies (animation, drama, comedy, children), it can also be successfully argued that not all movies are made alike. There are different audiences and rationales behind every film. Such is the case of Tarzan II, a prequel-ish film of sorts to the Disney Tarzan animated film. The positives vastly outweigh the negatives, with a stellar voice cast bringing the characters to life, a singular story from beginning to end (instead of different "episodes" strung together with a connection story) and animation almost on par with the original. The problem with the film is quite simple: the story isn't all that engaging. However, it is short, moves quickly and includes just enough of what made the first Tarzan such fun to be a qualified recommendation.
Jason Vargo
Super Reviewer
½
NO! NO! NO! they pretty much told tarzan to screw off!
Tarzan II Quotes
There are no approved quotes yet for this movie.