A Taste of Honey
(1961)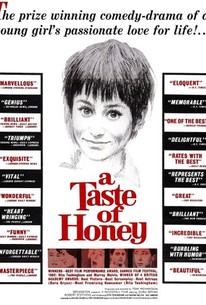 Movie Info
This film version of Shelagh Delaney's play follows the hopes and dreams of five people. Jo is the neglected 16-year-old daughter whose promiscuous mother marries a dandy. Jo gets pregnant after a tryst with a black cook, who leaves her over his impending responsibilities of fatherhood.
Critic Reviews for A Taste of Honey
Audience Reviews for A Taste of Honey
Shelagh Delaney's "kitchen sink" play of the early 1960's offers a harrowing look at postwar, post-industrial Britain before the glad arrival of The Beatles, the hope they ushered in and why everyone was so glad to see them. The gloom and desolation of the urban settings, juxtaposed against towering monuments of dead heroes at the beginning, only reflects the vast wastelands of despair between the characters, all flailing about like infants in an unminded crib. That Delaney was only a child (19) herself when she wrote this, a calm reply to the theatrical pretensions of the day, only underlines the veracity of her insights, particularly how much denial plays a significant part in the doldrums of society.
Kevin M. Williams
Super Reviewer
Rita Tushingham arrived as an underdog star with "A Taste of Honey," an early Tony Richardson film about an adrift teen girl. Jo (Tushingham) isn't blessed with charm, money or good looks, and her unreliable mother (Dora Bryan) is a well-meaning but self-absorbed floozy. While Bryan's character chases another cold-hearted scoundrel as a temporary husband, neglected Jo begins a sweet romance with a black sailor (Paul Danquah). After her love ships out, she discovers she is pregnant. But she also has met Geoffrey (familiar character actor Murray Melvin), a young homosexual outcast whose kind heart is just what she needs. "A Taste of Honey" is a melancholy tale with a notably unresolved ending. The chemistry between Tushingham and Danquah is not what it should be, but Bryan and Melvin are wonderful. Of course, Tushingham's ugly-duckling pathos is still irresistible. The film's workmanlike direction and lack of cultural reference points means it has aged fairly well, though the frowns about homosexuality and interracial relationships do seem somewhat dated today. John Addison adds a light, orchestral score, but oddly does not incorporate the well-known melody recorded by acts like the Beatles and Herb Alpert.
Eric Broome
Super Reviewer
A pretty good film showing what life is like for a working class teenager of Britain in the 60s. The narrative is fairly empty which made me feel like it was far too long and at times the acting isn't so great however overall I'd recommend it. It's not for everyone, but Tushingham and Melvin's performances are brilliant; especially Melvin who is absolutely fantastic.
Sophie Burgess
Super Reviewer
A Taste of Honey Quotes
There are no approved quotes yet for this movie.