Taxi
(2004)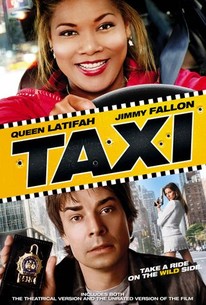 Movie Info
An inept cop suddenly gets a new partner in the person of a cabbie with attitude in this high-rolling comedy. Washburn (Jimmy Fallon) is a police officer who becomes the laughingstock of the department after a series of traffic accidents cause him to lose his driver's license. One day, Washburn gets an urgent call to head out to the location of a bank robbery; unable to drive himself there, he hails a cab. As it happens, the taxi is being driven by Belle (Queen Latifah), a single mom who, after making a name for herself as the fastest pizza delivery person in New York, has moved up to driving a hack. What begins as a wild ride to the scene of the crime gets even wilder as Washburn and Belle become unexpected allies while following the trail of a team of beautiful but reckless female bank robbers led by Vanessa (Gisele Bundchen). Adapted from a popular French action comedy with the same name, Taxi was Jimmy Fallon's first big-screen vehicle after leaving the cast of the popular sketch comedy series Saturday Night Live. ~ Mark Deming, Rovi
News & Interviews for Taxi
Audience Reviews for Taxi
Althought this isnt really that great of a movie, i really cant help but really enjoy it! It amuses me greatly and although the story is predictable and not a lot going on theres still enough of something that makes it good! Im not sure what that something is however, it good be the decent car chases and action thats in the movie or the really sexy scene where Esposito is touched up! Purely on that it gets a thumbs up! An enjoyable movie thats amusing and will keep you amused!
Film Crazy
Super Reviewer
Basically a crappy complete re-filming of a rather decent concept which was done allot better along time ago by Besson but ruined here by Hollywood. The casting is very poor, dumb and not entertaining in the slightest, the cars look shit and its all as cheesy as hell with poor obvious stunts. The inclusion of Gisele and her bad girl posse just seems like an obvious lore to try and get more bums on seats as they know how bad the rest of the film is, utter dribble, what was the point????
Phil Hubbs
Super Reviewer
Taxi is massive pile garbage. The film is so stupid, so unimpressive, and very poorly acted. I caught this film waiting for classes in my College's Pub, as this was the film that was showing, luckily I went for a few cigarette breaks and missed a few parts, but in the end; I didn't miss anything. Queen Latifah is a terrible actress and has no skill whatsoever. Taxi is a bad film with a bad script that is pretty pointless and unoriginal. The films plot is paper thin and I was very irritated with the inept humor. The film didn't do anything for me, and it was a waste of time. Taxi is an awful that should've never been made. Taxi doesn't work because the script is so poorly written, the cast is so mediocre, and everything else is so over the top, that you lose interest. If you're looking for a good comedy, then this isn't the one. This film is awful. I was absolutely bored by this film, and I felt it was a film that absolutely didn't deliver anything interesting. The film proved that Queen Latifah is a talentless actress and that she is unable to do anything good. Taxi is simply a train wreck of a film and it's a film that I thought was one of the most annoying comedies to come out in a long time. This is a terrible film that everyone should avoid, there is absolutely nothing interesting or funny about the film. The film is just a collection of annoying characters played by bad actors and with a bad story to boot. The film fails as a comedy and is a total waste of time.
Taxi Quotes
There are no approved quotes yet for this movie.