Taxidermia
(2006)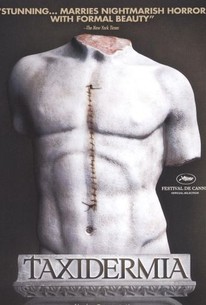 TOMATOMETER
AUDIENCE SCORE
Critic Consensus: Surreal and visually striking, Taxidermia is, at times, graphic and difficult to watch, but creatively touches on disturbing subjects with imagination and wit.
Movie Info
"Taxideremia" contains three generational stories, about a grandfather, a father, and a son, linked together by recurring motifs. The dim grandfather, an orderly during World War Two, lives in his bizarre fantasies; he desires love. The huge father seeks success as a top athlete -- a speed eater -- in the post-war pro-Soviet era. The grandson, a meek, small-boned taxidermist, yearns for something greater: immortality. He wants to create the most perfect work of art of all time by stuffing his own torso. Historical facts and surrealism become intertwined as magical realism, like in the works of Gabriel García Marquez or the Hungarian writer Lajos Parti Nagy; the script is based on two of the latter's stories. Palfi added the third story, that of the grandson the taxidermist.
Critic Reviews for Taxidermia
Audience Reviews for Taxidermia
½
An interesting film that may be too repulsive but still we never look away. With a memorable direction and camera work, it tells a cynical (and often hilarious) story about three generations of deviant men who are a reflection of Hungary's History since WWII.
Carlos Magalhães
Super Reviewer
A surrealist take on three generations of bizarre and perverted Hungarians: a horny army soldier (whose penis spouts fire), a competitive eater, and a taxidermist. It's technically well done and ranks high on the "I've never seen THAT before" weird grossout scale, but it lacks a point and, just like its final exhibit, a heart.
½
Disgusting at times but also beautiful in the way it is presented. A great visual style, wonderful lighting and an imaginative series of events leads to a film unlike most others. One scene involves a pop-up book come to life. A whole film should be shot this way as that single moment was fantastic. Another great thing about this film is that you will see things you will never see anywhere else, such as a man shooting fire from his penis and a man having sex with a pig's carcass. This will be hard to stomach for some, and keeps it's comments on humanity buried beneth the surface. If you want to see some great vomiting sequences I suggest you watch Taxidermia. Foul, gross and weird, just like life. Well maybe a bit fouler, grosser and weirder than life.
Luke Baldock
Super Reviewer
Taxidermia Quotes
There are no approved quotes yet for this movie.