Teacher's Pet
(2004)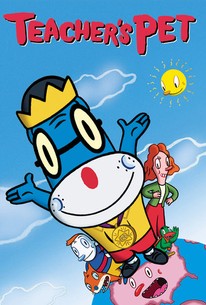 Movie Info
Spot the Dog is so curious about the world that he has taught himself how to talk and read, and then sneaks to school with his master, Leonard, where he poses as a human.
Critic Reviews for Teacher's Pet
Audience Reviews for Teacher's Pet
½
Now seeing how this was a majorly overlooked animated film only earning 6.3 Million at the box office and seeing how it was based off a majorly overlooked animated show, does that mean that the whole film is worth it? First off the acting. Considering the show had a pretty big cast for a animated Disney show especially for such an obscure show, the film has this same cast plus several new actors playing main characters. All the actors from the show do there hilarious good job. Nathan Lane is great as he usually is in almost anything he is in and makes the character of Scott likable full of energy and charisma and very funny. Jerry Stiller and David Ogden Stiers are just perfect as Pretty Boy and Mr. Jolly and the two work off each other and have a lot of the best comedic moments in the whole film. Shaun Flemming is good at making Leonard a well developed kid and Debra Jo Hupp does her usualy great comedic performance as Leonards mother. The new actors are also all fantastic. Kelsey Grammer does a great job at playing off the mad comedic scientist Ivan Krank and has a great voice to go with it. Paul Reubens and Megan Mullally are good as the two mutant creations of Krank and are both great at making them stupid and clueless but also hilarious. Now the music. This is something you're probably questioning right now. Why would an animated film based on a animated comedy series have its film be a musical comedy? To be honest, I don't know why either. But you know what, they did their DAMN best when writing the music in this film and it has a huge broadway style soundtrack to it and it is all fantastic music and they try a few range of styles for the music, they try a tango style, a military style song, a kind of roadtrip style of sing along song. But my absolute favorite songs in the movie is the theme song for the film which happens to be the theme for the show but the make it feel a lot bigger and the song halfway through the film when Scott is kicked out of his own family by his owner and they basically explain to you the whole story without you having to know the show which to me is what a musical should do Next the animation. Now if you guys are familiar with the Cranium board games and card games, you probably know this animation style since the show and movie were done by artist and animator Gary Baseman. The animation is very good for this kind of film and shows in the comedy very well with the film, sometimes the comedy just straight up comes from the visuals which is one of my favorite types of comedy with animation which is in things like Invader Zim and Camp Lazlo. The animation really shows in many of the songs in the film (which is sad because I can't find any footage of the film at all on the film except the trailer,) and the energy that this animation shows is just as good as some of the Nickelodeon and Disney shows that were airing at the time and it all looks just amazing. Overall, Teacher's pet is a criminally underrated film that I think more people should really see. The music is some of the best I've heard in a film ever, the animation is just fantastic from a great artist, the actors are all fantastically funny and all play their characters well, and the comedy is still just as funny as when I first saw the film when I was 7. If you can find this film I say definitely check it out and you may really like it. Lord knows it's one of my favorite animated films
Michael Edwards
Super Reviewer
The movie which concludes the Teacher's Pet series. I simply love the weird, zany and trippy animation. The characters are great and lots of laughters were had. The plot is a modern variation of Pinocchio which was actually really quite well done. The Teacher's Pet movie is a wonderful film for children and adult alike.
Sylvester Kuo
Super Reviewer
a wonderful nonstop hillarious funny comedy for kids and adults alike! clever, brilliant, laugh out loud hillarious comedy, also nathan lane is brilliantly funny. this is something familys will enjoy! A
Juan Charqueno
Super Reviewer
Teacher's Pet Quotes
There are no approved quotes yet for this movie.