Fah talai jone (Tears of the Black Tiger)
(2007)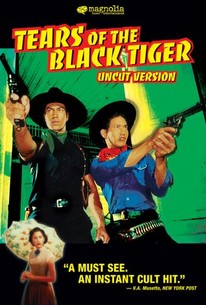 TOMATOMETER
AUDIENCE SCORE
Critic Consensus: With a vibrant pastel color scheme and stylized action sequences, Tears of the Black Tiger is a bizarre, yet thoroughly entertaining Thai western.
Fah talai jone (Tears of the Black Tiger) Photos
Movie Info
One of the most elaborate productions ever mounted in Thailand, Tears of the Black Tiger is a candy-colored Western made in the high-energy style that characterizes much contemporary Thai cinema. The plot is a traditional boy-meets-girl, boy-loses-girl, boy-gets-girl-again story that references both classic American Westerns and Thai folk tales. Poor boy Dum (Chartchai Ngamsan) and rich girl Rumpoey (Stella Malucchi) first lay eyes on each other as children when her family escapes Bangkok to his country hometown during World War II. When they meet again ten years later, they fall instantly in love and decide to marry. But the disapproval of her parents and a band of rampaging bandits led by the villainous Mahesuan (Supakorn Kitsuwon) combine to threaten their plans for future happiness. ~ Tom Vick, Rovi
Critic Reviews for Fah talai jone (Tears of the Black Tiger)
Audience Reviews for Fah talai jone (Tears of the Black Tiger)
I've only seen Thailand martial movies and only one out the dozens I have seen was any good. So I chose to explore Thai cinema outside of the Martial Art genre, which failed to change my outlook on Thai cinema. Tears of the Black Tiger is certainly one of the better Thai films I've seen, but its many references to classic westerns keep reminding of other superior films I could be watching. Tear of the Black Tiger is a parody as well as a homage to the Western and the romantic tearjerker. The plot here is so-so, its simply there and goes by without much to give us. The movie dialogue is more corny than a Spanish soap opera. It uses many of the cliches of the western genre which it pokes fun of, but becomes cliche itself for using to much of them. Contains over the top violence; like a man flipping in the air after being shot with a pistol in the mouth. Surprisingly the violence here uses tons of blood whenever someone is killed. The acting is good though ultimately underwhelming due to the lack of screen time some of the actors get. This is a classic case of style over substance. Most of the efforts went into the unique and sometime odd color scheme of the visuals. Some of the shootouts even if over the top were fun to watch. As a fan of the western genre I enjoyed the film offering, but it gets caught up in reminding us of past influential films and failing to give the audiences something new in the process. Tears of the Black Tiger takes inspiration from superior films and fails to capture the same essence as its influences. It's good if you want to past the time, just do not go into this expecting anything as from the genre usual standards.
Caesar Mendez
Super Reviewer
½
This is the kind of movie that restores my faith in cinema. A love letter to old Thai flicks and spaguetti westerns, "Tears" is the right mix of homage and style. This is not a "parody", and seems that western movie templates can't tolerate the existance of movies like this one without sticking the "parody" label. This movie was not spilled by some recycling-nostalgia-pop culture machine, made to sell false images of new "coolness" to kids. This a honest work of love and dedication, that happens to have fun with the material.
Tsubaki Sanjuro
Super Reviewer
½
Cliche & over-the-top but mostly in right ways
Fah talai jone (Tears of the Black Tiger) Quotes
There are no approved quotes yet for this movie.