Tears of the Sun
(2003)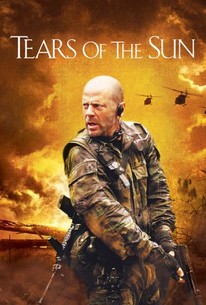 Movie Info
A career soldier is forced to choose between following orders and saving lives in this action thriller. Lt. A.K. Waters (Bruce Willis) is a veteran Navy SEAL whose commander (Tom Skerritt) has given his team a special assignment. A Central African nation is expected to explode into war at any moment, and Waters and his cohorts are to escort any American citizens in the area to safety, most notably Dr. Lena Kendricks (Monica Bellucci), a doctor from the United States who has set up a clinic in the jungle. Waters and his men find Kendricks, but she refuses to leave with them unless she can bring along 70 refugees who have been left to her care. Kendricks makes it clear that if they are left behind, the refugees will face certain death, but Waters's C.O. insists he bring back Kendricks -- but not her patients. Forced by his conscience to disobey orders, Waters and his team race against time to escort the refugees to a border town where they will find safe haven before invading troops can ambush them. Tears of the Sun (which was produced under the title Man of War) also features Cole Hauser and Fionnula Flanagan.
News & Interviews for Tears of the Sun
Critic Reviews for Tears of the Sun
Audience Reviews for Tears of the Sun
"Tears of the Sun is one of those films that left me feeling gutted after seeing it. It's been a while since a film has left me feeling so many emotions. I had a lot of mixed feelings going on throughout this film. Many of them being disgust, anger, saddness, horrified, and lastly proud. I know these characters are fictional, but the events that take place to these unfortunate people is very real. Just knowing that people have lived through these kind of events really is sickening and terrifying. So when you see A.K. (even if he's not real, I'd like to think someone would have done what he did) turn the plane around and take his group of solidiers to a fight that is not theirs just because it might save lives and is not only the right thing to do, but the human thing to do, is greatly satisfying. I was sickened with what these armed guerillas not only did to these poor people, but to these women and children. I was even more horrified by what they did to nursing mother's. It really just broke my heart and made me cry. I can't imagine seeing this in real life let alone living in it. It's truly a film that makes you not only feel grateful for the life you have and the country you live in, but that their are people out there fighting for these countries and sees that it is wrong and want to help prevent these things from happening anymore. We are all human and deserve to be treated as such. It's really scary knowing these things are still happening. See the film. You won't be able to get it out of your head days or weeks after seeing it. I know I won't."
♥˩ƳИИ ƜѲѲƉƧ♥
Super Reviewer
An American military unit is dispatched to extract a doctor and US national from a civil war torn region of Africa and is pursued relentlessly to the border by rebel forces. It's the turn of Nigeria to get rescued by Team America: World Police as stone faced Bruce Willis and his team of be-haloed tough guys set the world to rights once more, using just truth, justice and the American way. The American way involving grenades, sniper rifles, automatic weapons and air strikes, as usual. As a political drama it is incredibly simplistic and self righteous, all the Africans in the film being either murderous savages or helpless victims and there are plenty of shots of wailing mothers, murdered children and rape victims to help bludgeon the point home. The characters are the usual mix of morally courageous babe (Monica Belucci manages to look even more gorgeous covered with sweat and grime) and noble US grunts bucking orders to do the right thing; in other words, it's a typically weakly plotted and characterised Hollywood thriller and as such is sugared by some very impressive action scenes. The final showdown is extremely well handled by Antoine (Training Day) Fuqua and it's a shame it's kind of ruined by the inevitable parade of teary-eyed brown faces that are overflowing with gratitude for their American saviours at the end. It's just another example of America rewriting history to make themselves the heroes, but it is entertaining enough if you don't think about it too hard. F**k, yeah.
There's a lot to admire about Antoine Fuqua's Tears of the Sun amidst the "Ra Ra America" sentiment, and the weak storyline about a hard as nails Lieutenant who never disobeys an order until now. I really enjoyed the first hour of this film. Unlike most action war pictures that find a conflict to exploit, Tears of the Sun immerses itself in the horror of the political situation, and the horrific genocide that is currently taking place. Nigerian rebels have successfully overthrown a democratically elected government, and before the entire country descends into complete chaos (which it pretty much already has), the US Navy SEALS have decided to extract all American military and personnel in the area. Bruce Willis plays a commander whose team has been ordered to find and extract an American doctor, played by Monica Bellucci. Things get complicated when this doctor refuses to leave without many of the nearby Nigerian civilians she's been treating. Against his orders, Willis agrees, and soon after, he and his team become pursued by the Rebels as this doctor seems to be more important to them than anyone could have realized. Genocide is a horrible thing. Even more horrible is how so much of the world watches in dismay, yet does not lift a finger to help save these people. Wars between African tribes seem to always end in mass genocide, and this script means to put these American soldiers into a situation where they are forced to look face to face at the human cost they will have to bear by leaving the innocent Nigerians to fend for themselves. For the first half of the film, the violence is kept at a minimal, and we get to know all the soldiers in the platoon, as well as many of the innocents that are being led to safety. Of course, this being a studio film, the second half of the film dissolves into an action packed firefight between the American soldiers and the African Rebels. Fuqua isn't the strongest action director either, and many of these scenes lack real excitement. Amidst these war sequences, the film pauses to focus on how grateful these civilians are that these soldiers are there for them and that God will bless them. There's nothing particularly wrong with including one or even two such scenes, but there are too many to count, and the "Ra Ra" undertones become a little too obvious for my tastes. And because the film starts off as a darker, more intellectual narrative, it's disappointing that the filmmakers opted for a typical action movie showdown as opposed to a proper and much more daring follow through.
Edward Boxler
Super Reviewer
Tears of the Sun Quotes
| | |
| --- | --- |
| Dr. Lena Kendricks: | Open up! I'm american |
| Dr. Lena Kendricks: | Open up! I'm American. |
| | |
| --- | --- |
| Lt. A.K. Waters: | I need you to Cowboy the fuck up! |
| | |
| --- | --- |
| Lt. A.K. Waters: | Now Cowboy the F#%& UP!!! |
| Lt. A.K. Waters: | Now cowboy the f**k up! |