Ted
(2012)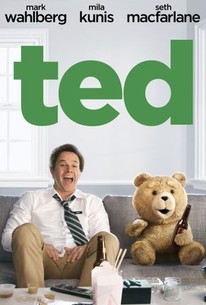 TOMATOMETER
AUDIENCE SCORE
Critic Consensus: Ted's "romance versus bromance" plot is familiar, but the film's held aloft by the high-concept central premise and a very funny (albeit inconsistent) script.
Movie Info
Family Guy creator Seth MacFarlane brings his boundary-pushing brand of humor to the big screen for the first time as writer, director and voice star of Ted. In the live action/CG-animated comedy, he tells the story of John Bennett (Mark Wahlberg), a grown man who must deal with the cherished teddy bear who came to life as the result of a childhood wish...and has refused to leave his side ever since. -- (C) Universal
Audience Reviews for Ted
A very funny comedy with a very obscene humor, which curiously doesn't come out offensive from a teddy bear's mouth, but it is also surprisingly warm and sincere, showing Ted as a complex character and making him totally believable with a flawless animation job.
Carlos Magalhães
Super Reviewer
I don't get how some films (mainly comedy) at times seem to take an old actor/franchise and completely flaunt him/it like product placement. In this film for some reason Seth MacFarlane has used Sam L. Jones of 'Flash Gordon' fame in what seems to be some kind of agreement to try and reboot his career. Well that's how it comes across to me anyway haha no other reason for him being there really. I'm guessing its in a typical 'Family Guy' style just to have random off the wall moments with cameos. So Seth MacFarlane breaks into the movies with this 'Family Guy' orientated comedy. I say 'Family Guy' orientated because even though it has nothing to do with FG the main character of Ted sounds just like Brian and Peter from FG (yes I know that's how MacFarlane sounds in reality), he wrote it with FG writers, plus he utilizes FG voice actress Mila Kunis also, so its home from home in a way. I expected this to be totally downright funny and hilariously filthy, it was but not as much as I hoped for. Yes there are some grand bits of dialog that sound so cynical and sharp with MacFarlane's well spoken tones but they are few and far between. Even the swearing isn't as cool as you would think. At first you think its gonna be awesome to finally here Peter and Brian Griffin use bad profanity but it wains fast. At first its highly effective but as time passes the novelty where's off. Its like a sexy sultry woman dressed in a tight skimpy revealing outfit, its amazingly hot and never fails to keep you excited. Then you see the same woman completely naked...straight away she no longer becomes as hot because all the mystery is gone, she's right there in the buff with nothing left to hide. So in other words when we see 'Family Guy' without swearing its actually more effective than if it had swearing, because it makes you use your imagination and I think comes across funnier. It works for this film (at times) I'm just saying hearing MacFarlane swear wasn't as funny as I thought it would be (can anyone beat Cartman in those stakes?). Hope you all get what I'm saying. As for the rest its kinda average really, nothing much happens in the film until the finale which does get a whole lot better. Kudos to Giovanni Ribisi with his excellent Norman Bates style father character, easily the best thing to watch towards the end. The sequence where he is dancing in front of the TV to Tiffany is creepy as fudge plus hilarious at the same time...yet I'm not sure why, I think it was the pelvic moves. There are a few weirdly eerie moments in the film, probably down to the fact its based around a living teddy bear. The point where Ted fights Wahlberg is kinda creepy in a disturbing horror type way. I reckon its suppose to be a take on the sequences in 'Family Guy' where Peter fights that large chicken character (seems to use the same sound effects too). Was it suppose to be funny?! Seeing Ted having sex, being with hookers and dating hot women is also rather odd, why would a real woman wanna go out with a teddy bear?? Yes its a fantasy film but really? Other than that it does satisfy to a degree, its just not as good as it could of been methinks. Ending was sweet but totally predictable lame fluff, Wahlberg was miscast in my opinion (the guy can't act, why does no one see this?!) and clearly MacFarlane has a 'Flash Gordon' fetish. He stuck Sam Jones in there why again? (looks good for his age though, can't deny that). Sorry for comparing 'Family Guy' to this so much, hard not to really...oh and for typing it a a lot too.
Phil Hubbs
Super Reviewer
½
High profile comedy (due to McFarlane's name on it) interestingly/ironically about a man/boy choosing to grow up. There's a problem though when the technical reality of Wahlberg and Kunis relating to a animation (which they really do quite well) is more interesting than the story. Not to say that there aren't good bits in it, but those are mostly what were used in the pre-release trailer. In other words, meh.
Kevin M. Williams
Super Reviewer
Ted Quotes
| | |
| --- | --- |
| Ted: | Why are you crying? |
| John Bennett: | My dick is squished by the TV. |
| | |
| --- | --- |
| Narrator: | Rex was forced to give up his pursuit of Lori. Not long afterwards, he fell into a deep depression, and died of Lou Gehrig's disease. |
| Narrator: | Rex was forced to give up his pursuit of Lori. Not long afterwards, he fell into a deep depression and died of Lou Gehrig's disease. |
| | |
| --- | --- |
| Lori: | Welcome back, Ted. |
| John Bennett: | It was you. You did it. |
| Ted: | Son of a bitch. You wished for my life back. |
| Lori: | No. I wished for my life back. |
| | |
| --- | --- |
| Ted: | Oh, come on. I don't sound really much like Peter Griffin. |