Teen Witch
(1989)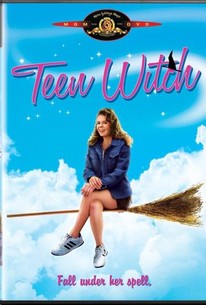 Movie Info
An otherwise boring and unpopular Louise is enamored with Brad, the star of the high-school football team, but her feelings are not reciprocated. One week before her birthday, she visits a psychic and is told she has latent, genetically predisposed witch abilities that will blossom on her sixteenth birthday. Soon she finds the information to be true and uses her powers to gain the typical teen goals: popularity, revenge on cruel teachers and other meanies, and high-school football star Brad...
Critic Reviews for Teen Witch
Audience Reviews for Teen Witch
Love this movie. Yes it's bad, but it's cute too, and Robyn Lively is just so relatable as unpopular, geeky Louise. Her discovery that she is a witch and the resulting change of luck is pure wish fulfilment for anyone who relates to 80's geek. Some of the songs are enough to make you cringe, but I do like the opening sequence. Dare I admit I have searched iTunes looking for that song, but no luck. This is just a cute, fun movie that could only belong to the 80's.
Nicki Marie
Super Reviewer
Louise Miller (Robyn Lively) is your typical teenage girl. She's in high school and is in love with football player Brad (Dan Gauthier), who is also the cutest and most popular guy in school. One nigh after going to see a psychic, Madame Serena she is given powers on her 16th birthday. She uses them to make herself popular but then questions whether Brad really likes her for her after she becomes popular. A great 80s movie that is perfect to watch around Halloween or any time.
Cassie Hill
Super Reviewer
A silly teenage movie, it's pretty campy, so I guess it's got a cult following now, but I don't think it's all that good. It's okay, but not a great movie.
Teen Witch Quotes
| | |
| --- | --- |
| Louise Miller: | Can I make him love me? |
| Serena: | With me being your coach he's gonna become your love slave. |
| | |
| --- | --- |
| Louise Miller: | My life is a walking, talking, tragedy. |
| | |
| --- | --- |
| Richie: | Nobody wants to date you because you're a dog, a dog! |
| | |
| --- | --- |
| Richie: | I'm rubber your glue whatever you call me sticks back on you. |
| Richie: | I'm rubber, you're glue. Whatever you call me sticks back on you. |