Teenage Mutant Ninja Turtles: The Movie
(1990)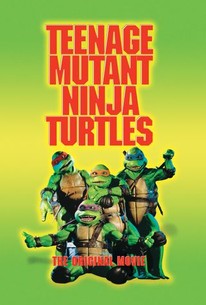 TOMATOMETER
AUDIENCE SCORE
Critic Consensus: Teenage Mutant Ninja Turtles is exactly as advertised: one-liners, brawls, and general silliness. Good for the young at heart, irritating for everyone else.
Teenage Mutant Ninja Turtles: The Movie Photos
Movie Info
Teenage Mutant Ninja Turtles: The Movie is the live-action, feature film adaptation of the cult comic book and the popular animated television show. After prolonged exposure to radiation, four teenage turtles--Michelangelo, Raphael, Leonardo, and Donatello--have mutated into ninjas and have begun living in the sewers of a large city. Under the guidance of a ninja master Splinter the Rat and television reporter April, the Turtles embark on a mission to run crime out of the city and battle the warlord Shredder. The Turtles have been designed by Jim Henson Productions and effortlessly fit into the live-action surroundings. ~ Stephen Thomas Erlewine, Rovi
News & Interviews for Teenage Mutant Ninja Turtles: The Movie
Critic Reviews for Teenage Mutant Ninja Turtles: The Movie
Audience Reviews for Teenage Mutant Ninja Turtles: The Movie
Never beat the original film down Michael Bay!
Lucas Martins
Super Reviewer
½
Despite dated puppet effects and sometimes cheesy dialogue, TMNT the movie is also surprisingly darker and more mature than expected. They absolutely nail the tight bond between father and sons with the turtles and Splinter. The action sequences are fun to watch even though they are relatively simple because of the limitations of the puppets. I have a soft spot for this film because I loved it when I was a kid. I sat down and rewatched it with the same giddiness I had as a child and it made me feel young again. Ultimately, it's not a great film, but I enjoy it and if you grew up on it I'm sure it holds a special place for you too.
Josh Lewis
Super Reviewer
This live action "Teenage Mutant Ninja Turtles" film definitely feels like it pays tribute to the old show in many ways, while also going a bit too far in some moments. I felt like the puns overshadowed some of the scenes, which I'm sure it was intended that way, but it took me out of the film in some portions. The witty humour is perfect in this film and the Turtles are all portrayed in an enjoyable fashion. It's nothing spectacular, but the direction is fine, the script is good enough, the animatronics of the Turtles is pretty impressive for it's time and budget, and the fight scenes are hilariously awesome to watch. This film holds a place in my heart as being dumb amazing fun!
Teenage Mutant Ninja Turtles: The Movie Quotes
| | |
| --- | --- |
| Leonardo: | Awesome!!! |
| Michaelangelo: | Righteous!!! |
| Donatello: | Bosa Nova!!! |
| Michaelangelo: | Bosa Nova? |
| Donatello: | Chevy Nova? . . . . . Excellent!!!!! |
| | |
| --- | --- |
| Donatello/Foot Messenger: | You're a claustrophobic! |
| Casey Jones: | I never even looked at another guy! |
| | |
| --- | --- |
| Donatello/Foot Messenger: | Good thing these guys aren't lumberjacks! |
| Michelangelo/Pizza Man: | The only thing safe in the woods would be the trees! |
| | |
| --- | --- |
| Michaelangelo: | Just ninja-kick the damn rabbit! |