Teenage Paparazzo
(2010)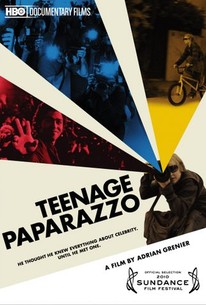 Movie Info
After several years of playing a famous actor on the HBO series Entourage, Adrian Grenier has become a celebrity in real life, and just as his show often explores the nature of fame in our culture, Grenier profiles a young man who is a unique product of our star-struck society in this documentary. One evening, while being pursued by a handful of celebrity photographers, Grenier noticed that one of them looked like a boy barely in his teens, and he later discovered that the paparazzo in question, Austin Visschedyk, was indeed just thirteen years old, but already working as a free lance photographer and earning up to $2,000 a shot for pictures of the right star. Home schooled by divorced parents who often give in to their young son's demands, Visschedyk prowls the streets of Hollywood at nights, keeping his eye peeled for a A-list personalities whose images are in demand from the tabloids and celebrity press, and while not all of his older colleagues care for Visschedyk, some admit that his youth makes it easier for him to find a cooperative subject. In Teenage Paparazzo, Grenier interviews Visschedyk, joins him for a night of stalking the famous and learns more about the nature of the celebrity press. But by turning a spotlight on his thirteen-year-old subject, is he only making his youthful ego more problematic? Teenage Paparazzo was an official selection at the 2010 Sundance Film Festival.
Critic Reviews for Teenage Paparazzo
Audience Reviews for Teenage Paparazzo
½
Even though it starts out as an exploitation of 13 yr old Austin Visschedyk, Teenage Paparazzo evolves into an insightful exposé on celebrity culture ...AND it confirms the assumption that Paris Hilton is an air-headed attention whore.
Randy Tippy
Super Reviewer
Good documentary. Was more thought provoking than I would have expected. Very well done, although Paris Hilton doesn't do her dumb blonde rep any favors here!
Nicki Marie
Super Reviewer
Teenage Paparazzo Quotes
There are no approved quotes yet for this movie.