Tekken
(2009)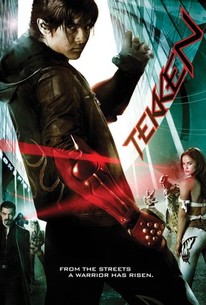 Movie Info
The year is 2039. World wars have destroyed everything and territories are run by corporations, the mightiest -- and cruelest -- of which is Tekken. Jin Kazama (Jon Foo) witnesses the death of his mother Jun (Tomita) by Tekken in the slums known as Anvil. Vowing vengeance, and armed only with his street smarts and raw fighting skills, he enters a dangerous and potentially deadly combat tournament, where he must defeat the world's most elite fighters to become the "King of the Iron Fist." -- (C) Anchor Bay
Critic Reviews for Tekken
Audience Reviews for Tekken
Yep I didn't know they had made a film either!. Guess what? its sucks ass a lot less than 'Street Fighter', about as good as 'Mortal Kombat' but miles better than 'Double Dragon' and 'Street Fighter: Legend of Chun Li'. OK firstly, the fights are actually quite good, most of them do in fact copy many moves from the game very well and there appears to be no camera tricks either, actually impressed there. Very little blood of course as this is aimed for a young audience which is a shame as an adult version could of been quite good. Right characters, hmmmm well you can't include every character of course so they include most of the main popular guys n gals, 'Jin', 'Yoshimitsu', 'Fury', 'Nina', 'Eddie', 'Law' etc...and to be honest SOME of the cast do look the part and look half decent eg. 'Fury', 'Jin', 'Law' and Cary-Hiroyuki Tagawa as 'Heihachi'. The rest I'm afraid look daft eg. 'Raven' looking the worst in his gay sparkly outfit. Cast wise its all unknowns to me apart from Cary-Hiroyuki Tagawa who always hams it up something beautiful and is good as 'Heihachi' and Luke Goss who does nothing really. Much like all other video game adaptations in the beat em ups' genre most of the cast are pretty dire but look pretty and there's always one reasonable big name. Lastly the plot and film, well its crap really innit, the plot is just a selection of fights between the fighters with a luke warm story in the background about the Tekken company ruling the US in a distopian future (like so many better sci-fi films) where 'the company' is seen as evil and only one man can topple it...'Jin'. Its turd and very basic with predictable outcomes, fight results and ending. It does help if you know the video game of course but I'm sure they have messed up that side too but I'm not fully up to date on the game plot anymore. Lots of 'A-Team' like action throughout due to it being aimed at kids, shame, not many bullet holes on view, plenty of faceless drone like henchmen being killed, obvious sets, a little bit at the end credits and small character hints for the fans throughout. Sequel?? yes its set up for one but like 'Street Fighter II' its so dire I doubt they will be allowed to make another.
Phil Hubbs
Super Reviewer
½
A future world where fascistic corporations rule a street kid enters the prestigious "Iron Fist" tournament with the intention of killing the head of the Tekken corporation whom he holds responsible for the death of his mother. Yet another cheesy video game adaptation, Tekken is a cheap and cheerful B-movie that does exactly what it says on the tin. The script, as you'd expect, is sub standard, the acting suspect and dialogue regurgitated action movie cliches but the characters all look the part, the action sequences adequately executed and the fight scenes all decent. It's definitely a case of MTV film making with the usual flashing lights, fast cuts and inescapably constant and awful soundtrack but it's certainly not the worst video game adaptation I've seen and is no worse than you're average Paul W. S. Anderson film. Anyone with any sense will keep their expectations low, and they will no doubt be met.
½
"You will fight, the world will watch, and my legacy will be written with your blood." Tekken actually wasn't half-bad. I'm as surprised to be saying that as you probably are to be reading it. It probably helped that the bar is so low for video game adaptations, and that the last such movie I saw was King of Fighters, which was awful to an absurd degree. Tekken can't help but look good in comparison to that. It helps that it makes at least an effort to keep some of the story and characters from the games, while offering frequent decent, if not great, fight scenes. The overuse of flashbacks gets a little old, but that's a much more minor issue than I was expecting Tekken to have. I have to mention that Tekken looks pretty good, with some impressive sets and a slick, high-budget veneer. The main actors are adequate, with John Foo as Jin being a capable fighter and believable enough as an earnest and ultimately good-hearted guy. Kelly Overton doesn't have a lot to do other than look hot in her greatly revised role as Christie, but she's infinitely qualified in that particular area. She does okay in her action scenes, too. Ian Anthony Dale is appropriately villainous as Kazuya, and everyone else is at least acceptable. Tekken is basically just another fighting tournament movie, placed in a video game setting. But, that's all it really needs to be. The story is simple and straight-forward, and I think that's a good thing. Keep in mind that this isn't supposed to be a 100% accurate adaptation of the game, and it'll probably entertain you.
Tekken Quotes
There are no approved quotes yet for this movie.