Telefon
(1977)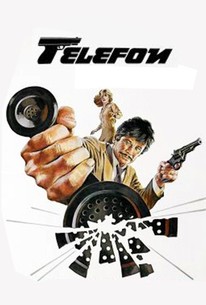 Movie Info
Don Siegel took over the directing chores from Peter Hyams on this taut cold war action film, based on the novel by Walter Wager. With the cold war between the United States and the Soviet Union thawing, old KGB hard-liner Nicolai Dalchimsky (Donald Pleasence) activates a group of Americans who were brainwashed twenty years earlier to blow up United States defenses when a passage from a Robert Frost poem is recited to them. When bombs go off at an abandoned United States defense installation, the Kremlin realizes that they have a rogue KGB agent on their hands who is trying to re-ignite the cold war. To stop him, the Russians send out KGB agent Grigori Borzov (Charles Bronson). Accompanying him is KGB double agent Barbara (Lee Remick). As the two agents try to stop Nicolai from starting World War III, they find time to fall in love with each other.
Critic Reviews for Telefon
Audience Reviews for Telefon
Telefon is an intriguing spy thriller from Don Siegel, and while it does have its moments, it also falls short of expectations. It just lacks that extra something seen in other Siegel films.
The plot is a good one and it has a ton of potential. The Soviet Union has placed 50+ brainwashed sleeper agents all over the United States and suddenly, one by one, they begin to carry out their purpose of blowing up key military installations. I say that is a great concept for a spy movie.
The first 20 minutes are great as it involves the telephone calls, in which the culprit delivers the "trigger" phrases, to set the sleeper agent in motion. These "trigger" phrases are what Tarantino uses in his movie Deathproof. The main character of Charles Bronson doesn't show up until the 20 minute mark and that is where the film begins to lose its pizazz. The rest of the film focuses less on the sleeper agents and more on Bronson's attempt to stop the culprit from triggering the rest of them. This isn't necessarily a bad thing, but watching the agents get the telephone calls and carrying out their missions are the high points of this picture.
Charles Bronson is a little flat. If you combine this with Don Siegel's directing you get a movie that doesn't live up to the hype. Fortunately, the supporting cast gets the job done. Donald Pleasance is a good "trigger" man and Lee Remick is a beautiful partner for Bronson. Tyne Daly gives a solid performance as a computer wiz, but her part of the story feels incomplete and unnecessary.
Telefon may not be great, but it is still a better than average movie that Charles Bronson or Donald Pleasance fans may want to check out.
Assassins living as normal Americans are programed to kill when they are given a certain phrase (I'll think of the word later and replace this... what the hell is the word I'm looking for? Let's just say a "trigger" word). Like Manchurian Candidate if Bronson had been there to kick all kinds of ass.
Christopher Brown
Super Reviewer
A rather flat and dour cold war thriller starring a rather flat and dour Charles Bronson as a Russian agent sent to kill a cell of sleeper agents who are activated by a fanatical Stalinist. It's an interesting idea, but none of Siegel's trademark intensity and panache is in evidence and Bronson is at his least charismatic.
Telefon Quotes
There are no approved quotes yet for this movie.