Tell Them Willie Boy Is Here
(1969)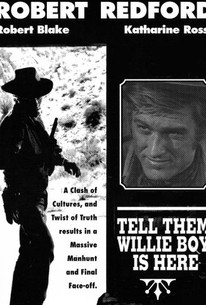 Tell Them Willie Boy Is Here Photos
Movie Info
After being blacklisted from Hollywood for 21 years, writer/director Abraham Polonsky made a healthy comeback with Tell Them Willie Boy is Here. The title character, played by Robert Blake, is a Paiute Indian living in 1909 California. After several years in the White Man's world, Willie Boy returns to his reservation, hoping to renew his romance with tribeswoman Lola (Katherine Ross). Old Mike (Mike Angel), Lola's father, strongly disapproves of her relationship with Willie Boy and attacks the youth. Acting in self defense, Willie Boy kills Old Mike. Under tribal rules, Willie Boy is now permitted to claim Lola as his woman. But white lawman Christopher Cooper (Robert Redford) is forced to charge Willie Boy with murder. The Indian and his girl escape the reservation, pursued by the essentially decent Cooper and a less-than-decent crowd of white vigilantes. What begins as comparative minor incident, snowballs into a huge political crisis, with the bewildered but defiant Willie Boy as the catalyst. Tell Them Willie Boy is Here is distinguished by the fine performances of leading players Redford, Blake, Ross and Susan Clark, and by the haunting cinematography of Conrad Hall.
Critic Reviews for Tell Them Willie Boy Is Here
Audience Reviews for Tell Them Willie Boy Is Here
½
There's not a lot of oomph is this turn of the century Western about a sheriff's territorial hunt for a runaway Indian couple plotwise: it's pretty cut and dried. So what remains is how the work is completed, and therein is the charm. All the lead's do well in this character study that becomes a chase movie, the actors given space to not explain every character nuance to us, the photography's decent, wide vistas of rugged Western canyons. The music's period appropriate, and though the point of it all is pretty much a liberal take on a conservative time we're not beaten over the head with it over much. Me likey. Kudos to Susan Clark as well, an unsung actor for the most part, allowed to shine.
Kevin M. Williams
Super Reviewer
½
Affirmative.This is not your ordinary western.Long dialogue and stretching events,alongside with a political agenda of misdemeanors.And Willie in the middle.The goat.Furthermore,the finale seems a little bit of propaganda whether it be over a justified "party" or not,it still is considered a non-argumentative propaganda without evidence.The whole physical hunting is more than satisfying.Polonsky knew he wasn't fully charged but it's an entertaining film all in all.
Dimitris Springer
Super Reviewer
Tell Them Willie Boy Is Here Quotes
There are no approved quotes yet for this movie.