Telling Lies in America
(1997)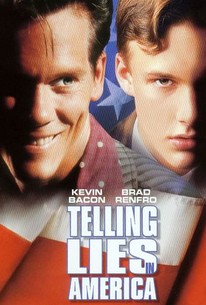 Telling Lies in America Photos
Movie Info
Karchy Jonas (Brad Renfro) was born in Hungary and immigrated to Cleveland, Ohio in the early 1960s where he felt adrift in a strange sea of American culture. Jonas tries to fit in at the Catholic high school he attends but finds himself a laughing stock. At home, his stern father (Maximilian Schell) insists that he adhere to traditional Hungarian ways. Karchy's only respite is the rock & roll music he adores. A year before he arrived, flashy, failed disc jockey Billy Magic (Kevin Bacon) rolled into town, found a job at WHK and became the host of the High School Hall of Fame contest, something that Karchy decides he must win so he too can be cool and therefore impress his lovely classmate Diney (Calista Flockhart). Eventually, he does win and before long has made friends with Billy. The DJ proves to be a real pal and pays Karchy a C-note a week to run a few errands and do odd jobs for him. Some of those tasks involve taking money from promoters. When not working, Billy is introducing Karchy to life's wild side. But despite such fun times, there is much the naive youth is destined to learn the hard way about his new buddy Billy. The film's story comes from screenwriter Joe Eszterhas' (Basic Instinct) script, penned around 1982. Himself a Hungarian immigrant, Eszterhas added a few autobiographical touches to the script.
Critic Reviews for Telling Lies in America
Audience Reviews for Telling Lies in America
½
Cast: Kevin Bacon, Brad Renfro, Maximilian Schell, Calista Flockhart, Paul Dooley, Jonathan Rhys Meyers, Luke Wilson, Damon Fletcher, Jerry Swindall, K.K. Dodds Director: Guy Ferland Summary: Shy immigrant Karchy Jonas (Brad Renfro) is a social disaster at his 1960s American high school. But things pick up when he pursues a cute, supermarket coworker (Calista Flockhart) and hooks up with a slick deejay (Kevin Bacon, in a standout performance) who shows Karchy life's wild--and dangerous--side. My Thoughts: "The performances by Kevin Bacon and Brad Renfro are great, it's the script that leaves something to be desired. There are also some very good actor's in here that are wasted by very limited roles. There was some great music in this as well. But just not as good as I thought it would be considering the talent."
♥˩ƳИИ ƜѲѲƉƧ♥
Super Reviewer
Telling Lies in America Quotes
There are no approved quotes yet for this movie.