The Temp
(1993)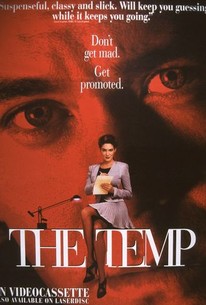 Movie Info
The Temp is yet another installment in the 1990s thriller genre of "the conniving woman who gets back at all who stand in her way to success," as seen in The Hand That Rocks the Cradle, Single White Female, Basic Instinct, The Crush, The Babysitter, et al. In this rehash of the perennial formula, Peter Derns (Timothy Hutton), a marketing executive for a cookie company that has recently been bought out by another firm, is forced to hire temporary help when his regular office assistant, Lance (Scott Coffey) takes paternity leave. Into the breach comes Kris Bolen (Lara Flynn Boyle), whose efficiency saves the day for the clueless Peter. Unfortunately for Peter's associates, her efficiency extends to killing off Peter's regular assistant upon her return to work by arranging an accident with a paper shredder. But Kris doesn't stop there, and Peter begins to notice a high body count of dead employees falling around him. Peter suspects Kris may be the culprit, but since he has just emerged from treatment for acute paranoia, he can't decide if he is imaging things or not.
Critic Reviews for The Temp
Audience Reviews for The Temp
½
Picked this up for $6. Hadn't seen it before, but looked like a bit of 90's tack I might enjoy. Actually, it wasn't too bad. The glass in the cookies scene alone raised this movie half a star. What I didn't like was the end. Seriously? The woman is crazy and has killed several people and he thinks she's going to take that?!
Nicki Marie
Super Reviewer
A good cast almost rescue this 90s "B" movie cross between an 80s yuppie flick and Fatal Attraction. Story is quite weak and a little silly.
The Shrewlord
Super Reviewer
The Temp Quotes
There are no approved quotes yet for this movie.