Ten Inch Hero
(2008)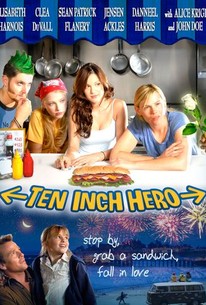 AUDIENCE SCORE
Critic Consensus: No consensus yet.
Movie Info
Ten Inch Hero follows the love lives of several young adults who work together at a sandwich shop, The Beach City Grill, owned by a child of the sixties who adheres to the surfing lifestyle. The characters include Piper, who searches for the child she gave up for adoption; Tish, a sexually voracious woman who needs to learn about love; Priestly, the guy who dishes out relationship advice to everybody; and Jen, the wallflower who receives counsel from her outgoing workmates.
Critic Reviews for Ten Inch Hero
There are no critic reviews yet for Ten Inch Hero. Keep checking Rotten Tomatoes for updates!
Audience Reviews for Ten Inch Hero
I can't believe the shit I'm willing to sit through just because I like Jensen Ackles. Ten Inch Hero was okay, I guess, but plays more like something Nora Ephron had cobbled together in an afternoon in her backyard. What I was expecting was a film similar in tone to Empire Records, about quirky people connecting against the backdrop of a sandwich shop (one of my many loves). Romantic comedies are all well and good, but as a fan of narrative deconstructions on Cracked.com, I've come to demand a lot more from escapist drivel. The female protagonists in this movie are all neurotic messes or emotional cripples: there's the woman who stands up her internet boyfriend because she thinks that he's too hot to like her, the nymphochick who'll screw anyone except the smoldering Goth guy she works with and, my personal favorite, the young woman who fancies herself an artist that has taken to psychotically stalking her neighbour because she's under the impression that his daughter is the child she gave up when she was young. Is the creepiness of her behaviour invisible to the world of this movie? One of the things I resented about this movie is that it falls into the trap of so many teen movies in that it implies that the best way to score the affections of your crush is to throw away your own identity and forge a new one to better suit thier tastes. It's so sad. It also taught me that the object of your obsession will forgive obviously malignant behaviour if you can prove that you meant well, and that promiscuity is not a sign of freaky sexual appetites, but rather of emotional immaturity. I don't expect a lot of realism from rom-coms, but this movie was utterly fraught with reminders of its own artifice and contrivance. Jobs seemingly fall out of the sky in Santa Cruz, and the samdwich shop is run by a dude who's so laid back that he's willing to shut down his business while half his unprofessional staff absconds with his bus on a road trip so that one of them can get laid. I for one would never eat at Beach City Grill. Not only is the service terrible, but food safety standards here seem to be a little bit lax. If you won't respect each others' feelings, closed adoption laws or the rules of fashion, at least respect the mighty sandwich!
Emily Armstrong
Super Reviewer
½
Plays like a soap opera, and of course has a happy ending, but a nice bit of froth to while away a dull weekend at home. Good cast and some nice little stories in it, probably thinks it is a little edgier than it actually is, but has good intentions. Enjoyed.
Nicki Marie
Super Reviewer
I really liked this movie. I though it was gonna be another cliche movie about preps, nerds, and freaks, but it was the opposite in a way. The characters are all very different in a really good way. A sandwich shop owned by a "hippie" is like a home for all the offbeats. Just a group of five friends trying to figure out love and where it plays a role in their lives. Really enjoyed Jensen Ackles character, and he played it well. He had a lot of different hairstyles, shirts with funny comments, and said some offbeat stuff. He was my favorite in the movie. Just really pleasantly surprised by this movie. It touched on some serious issues as well. Like peer pressure, teen pregnancy, adoption, and just people being judged by their outer appearance. A fun watch, that I think a lot of people will enjoy.
♥˩ƳИИ ƜѲѲƉƧ♥
Super Reviewer