10 to Midnight
(1983)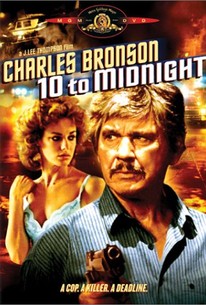 Movie Info
Charles Bronson at 63 or so, continues his vigilante persona in this crime drama about a Richard Speck-style killer who knifes young nurses to death. There is no doubt that the film exploits both the heinous 1966 Speck murder of eight nurses in Chicago and an audience's willingness to go along with the Bronson character, Leo Kessler, when he uses illegal means to entrap criminals. The captured killer, Warren Stacey (Gene Davis) manages to go free because of red tape and the need to wait for the outcome of his insanity plea. When he returns to his murderous predilection, Kessler takes action to permanently stop him.
Critic Reviews for 10 to Midnight
Audience Reviews for 10 to Midnight
½
10 to Midnight is an entertaining predictable Bronson vigilante film that places Bronson in the role of a cop bent on finding a killer who kills young women. The film is derivative from other films in Charles Bronson's filmography, but nonetheless it is still a highly entertaining movie that has a good story, good cast and good story. I really enjoyed the film, and I think that any Charles Bronson fan will surely enjoy the film, as it is yet another entertaining picture that delivers great moments of action and excitement. Bronson delivers yet another intense performance here, and like other films in his career, he really is the on-screen tough guy. Of course, they overused him in the vigilante action genre, but it's still a lot of fun to watch him take down the bad guy. His on-screen presence is just magnetic, and in this one, he really just stands out in the film. If you enjoy a good vigilante film, then give this film a shot. Bronson is a cop that will stop at nothing at capturing this killer, and when he targets his daughter, he makes it personal. The film has its flaws, and it is predictable, but nonetheless, this film just delivers in terms of what a Charles Bronson should be. The story is good for what it is, but the action is well structured and it is a standout of film. I've seen plenty of Bronson films, and 10 to Midnight is an entertaining ride from start to finish and a definite must see for action fans. The film is one of the vigilante films that Charles Bronson has made since the original Death Wish. 10 to Midnight isn't a perfect film, but is one that shouldn't be passed up by genre fans.
Wow, this could have easily been turned into a horror movie. It's a really intense thriller, lots of blood and nudity and violence. I really liked it. The actors were good, especially Gene Davis, who played the criminal. The plot is very realistic, but then Bronson's character takes justice into his own hands and gives us some great surprises, and a cool ending.
½
good charles bronson flick. Has him a chasing a serial killer who is now targeting his very own daughter.
10 to Midnight Quotes
There are no approved quotes yet for this movie.