Tenacious D in The Pick of Destiny
(2006)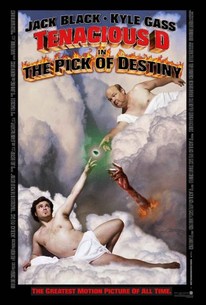 TOMATOMETER
AUDIENCE SCORE
Critic Consensus: Tenacious D fan will find this movie hilarious; everybody else will see only a low-brow concept movie and a small assembly of jokes stretched past the 100 minute mark.
Tenacious D in The Pick of Destiny Photos
Movie Info
In this musical comedy-adventure starring self-proclaimed greatest band in the world Tenacious D, a pair of aspiring rock superstars attempt to convince the world of their true talents as they embark on a daring quest to acquire the supernaturally powered guitar pick that will finally allow them to fully realize their vast rock & roll potential. JB (Jack Black) is a naïve Midwesterner whose strict Christian parents view his burning passion for heavy metal as a mortal sin. After his dad tears down every poster in his bedroom except for a Ronnie James Dio poster on the back of the door, the former Black Sabbath frontman instructs the aspiring young rocker to seek out his fortune no matter what the cost. Subsequently setting his sights on Hollywood and hellbent to take the world of rock music by storm, JB sneaks out his bedroom window and makes his way to Venice Beach, where he soon meets guitar-strumming slacker KG (Kyle Gass). With a future of rock & roll superstardom now well within their reach, JB and KG harness the power of Satan to form hellfire hard rock duo Tenacious D and set out on a quest to achieve musical immortality by stealing the mythical guitar pick said to instill its owner with unprecedented musical prowess.
Critic Reviews for Tenacious D in The Pick of Destiny
Audience Reviews for Tenacious D in The Pick of Destiny
Since I am a Tenacious D fan, I would give it high marks. However, I will try to be as unbiased as possible. The film does feature lots of 'laugh out loud' moments, however, most of the jokes are sex related. The use of cameos was a highlight for this film, examples being Tim Robbins and Ben Stiller. Ultimately, the best feature of this film is the soundtrack, songs like 'Master Exploder' and 'Beelzeboss' are superb for any Tenacious D fans. This film is essential for D fans. Its worth a try for metal music lovers. However, if you don't fit in these catagories, its should be given at least a chance.
Samuel Riley
Super Reviewer
JB: Now our masterpiece will never happen because we won't be fueled by Satan!  "The greatest motion picture of all time." As a lover of Tenacious D and Rock period, this movie is heaven. It's filled from start to finish with awesome references and songs. JB and KG are actually good musicians, so everything in the movie, song wise, works perfectly. Their songs are catchy(I should know as I can now say I know every song in this movie by heart, after my latest viewing), and their guitar playing is good. Then there's amazing cameos from Meatloaf as JB's father. From Dio as a poster of JB's room. From Ben Stiller, as a guitar salesman who knows about the Pick of Destiny. From Tim Robbins, as the Stranger. And from Dave Grohl as none other than Satan. And last but not least from John C. Reilly as Sasquatch. *Fun Fact: John C. Reilly also got a credit as Sasquatch Researcher. I shit you not. Then there's a scene that spoofs A Clockwork Orange. The movie has everything. We see Tenacious D form and then try to find the Pick of Destiny, which will magically turn them into the best band in the world. In between there's a little adventure to find the pick that feels slightly like the one from Harold and Kumar Go to White Castle. There's a mushroom trip, there's Sasquatch, there's Satan, there's an open mic contest. The movie is just jam packed from start to finish. It's all a very fun ride. Now I can see this being an easy movie to hate. Its comedy isn't for everyone and its music won't be either. If you're a Tenacious D fan then you're golden, but otherwise it's probably a coin flip. I'll admit that I've never seen this movie sober. It's one that you smoke some weed with your friends and say "Shit, we haven't watched The D lately." It's a funny and amusingly ridiculous film from the greatest band ever, Tenacious D. Those are their words not mine.
Melvin White
Super Reviewer
½
Two metal obsessed losers move to Hollywood and plan find fame and fortune by stealing a guitar pick fashioned from one of Satan's teeth. Tenacious D in: The Pick Of Destiny is Jack Black doing Jack Black. Again. If you've seen School Of Rock, High Fidelity or hell, anything else he's ever been in you know what you're going to get. And I for one think his one note routine is getting a little old. The Pick Of Destiny does have its moments but it's never more than mildly amusing and this metal inspired stoner material has already been covered by Spinal Tap, both Bill And Ted's movies, Wayne's World and even The Blues Brothers. And they all did it better. Those who never before realised that the word "rock" rhymes with "cock" may find it hilarious but anyone over the age of 15 will be left largely unimpressed.
Tenacious D in The Pick of Destiny Quotes
| | |
| --- | --- |
| JB: | (Singing) Wait, wait, wait you motherfucker! We challenge you to a rock-off! Give us one chance to rock your socks off! |
| JB: | [singing] Wait, wait, wait you motherfucker! We challenge you to a rock-off! Give us one chance to rock your socks off! |
| Satan: | Fuck! Fuck! (Singing) Fuuuuck! The demon code prevents me, from declining a rock-off challenge. What are your terms, what's the catch? |
| Satan: | Fuck! Fuck! [singing] Fuuuuck! The demon code prevents me, from declining a rock-off challenge. What are your terms, what's the catch? |
| JB: | (Singing) If we win, you must take your sorry ass back to hell! And also you will have to pay our rent! |
| JB: | [singing] If we win, you must take your sorry ass back to hell! And also you will have to pay our rent! |
| Satan: | (Singing) And what if I win? |
| Satan: | [singing] And what if I win? |
| JB: | (Singing) The you can take Kage back to hell. |
| JB: | [singing] The you can take Kage back to hell. |