The Tenant
(1976)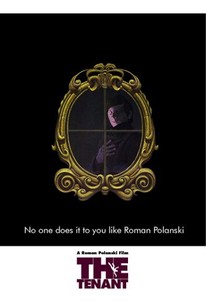 TOMATOMETER
AUDIENCE SCORE
Critic Consensus: A rough-edged thriller that lacks the precision of Polanski's best work, but makes up for it with its skillful mounting of paranoia, dread, and dark themes.
Movie Info
Director Roman Polanski casts himself in the lead of the psychological thriller The Tenant. Trelkovsky (Polanski) rents an apartment in a spooky old residential building, where his neighbors -- mostly old recluses -- eye him with suspicious contempt. Upon discovering that the apartment's previous tenant, a beautiful young woman, jumped from the window in a suicide attempt, Trelkovsky begins obsessing over the dead woman. Growing increasingly paranoid, Trelkovsky convinces himself that his neighbors plan to kill him. He even comes to the conclusion that Stella (Isabel Adjani), the woman he has fallen in love with, is in on the "plot." Ultimately, Polanski assumes the identity of the suicide victim -- and inherits her self-destructive urges. Some critics found the movie tedious and overdone; others compared it to Polanski's early breakthrough, Repulsion. The film was based on Le Locataire Chimerique, a novel by Roland Topor. ~ Hal Erickson, Rovi
News & Interviews for The Tenant
Critic Reviews for The Tenant
Audience Reviews for The Tenant
½
Though it's slow--and doesn't come near the brilliance of the classic Rosemary's Baby or the cinematic masterpiece that was Polanski's Macbeth--it is a successfully spooky mystery/thriller with a solid performance from Polanski and a well-filmed, hair-raising climax.
Matthew Samuel Mirliani
Super Reviewer
½
Let's just say that the rating is somewhere between 3.5-4, and that the grade is around a strong B to a B+. Part of Polanski's "Apartment Trilogy", this is a surreal psychological horror/suspense thriller about a timid and quiet file clerk named Trelkovsky whose life starts to go downhill after moving into a new apartment. He is told that the previous tenant went mad and took a swan dive out a window. Trelkovsky himself starts to feel that his neighbors all have something against him and are trying to get him to follow the same path taken by the previous tenant. Is this really the truth though, or is it all just in his head? The set up is great, and I love how Polanski plays with ambiguity here, all the way through. It's also funny how he plays the lead role, but isn't even listed in the credits, something that is both odd and cool. This is a psychological horror/suspense thriller, but it is also rather funny at times, albeit the comedy is of the really dark variety. Like I said, I love the set up, but the film isn't perfect. The biggest issue is that it is just way too drawn out. I really don't think it needed to be 125 minutes long. It could have been way condensed. However, haviing a long running time does allow for a tremendous amount of mood, tone, and atmosphere to be really expanded upon, even if it does start to become a tad much. The cast is international, and they are all great. Polanski does a great job in the lead, and it is a shame he really doesn't act too much. He's pretty talented in this department. Isabelle Adjani is great with her frilly hair and oh so 70s glasses, but probably my favorite is Shelley Winters as the concierge. She's a hoot. All in all, a mostly pretty satisfying film. The soundtrack is nice, the cinematography top notch, and the storyline wonderfully Kafkaesque. Give this one a shot.
Chris Weber
Super Reviewer
My favourite Polanski movie of all! He stars in it as well, and he's so cute! The story is really strange and suspenseful. I love it, and I highly recommend it.
The Tenant Quotes
| | |
| --- | --- |
| Trelkovsky: | I think I'm pregnant |
| | |
| --- | --- |
| Madame Dioz: | She does her washing-up in the middle of the night, and she whistles at the same time! |
| | |
| --- | --- |
| Trelkovsky: | At what precise moment does an individual stop being who he thinks he is? Cut off my arm. I say, "Me and my arm." You cut off my other arm. I say, "Me and my two arms." You take out my stomach, my kidneys, assuming that were possible... And I say, "Me and my intestines." And now, if you cut off my head... would I say, "Me and my head" or "Me and my body"? What right has my head to call itself me? What right? |
| Trelkovsky: | At what precise moment does an individual stop being who he thinks he is? Cut off my arm. I say, 'Me and my arm.' You cut off my other arm. I say, 'Me and my two arms.' You take out my stomach, my kidneys, assuming that were possible... And I say, 'Me and my intestines.' And now, if you cut off my head... would I say, 'Me and my head' or 'Me and my body'? What right has my head to call itself me? What right? |