Tender Mercies
(1983)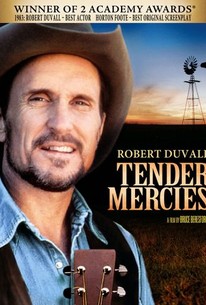 Movie Info
Mac Sledge (Robert Duvall), a once-famous country western singer, wakes up broke, alone and hung over in a tiny Texas motel run by widowed Rosa Lee (Tess Harper). Having nowhere else to go, Sledge takes a job at the motel, and through the kindness and faith of Rosa he changes his self-destructive ways. He marries Rosa (after he's baptized at her urging) and becomes a father/pal to her son (Allan Hubbard). Given an opportunity to make a comeback, Sledge considers leaving his new family behind, but after a reunion with his own unhappy daughter (Ellen Barkin), he vows never again to ruin anyone else's life. A simple story simply told, Tender Mercies is a warm, persuasive tale of redemption, with Robert Duvall giving one of his finest performances. Also appearing is Betty Buckley as Duvall's ex-wife, a Dolly Parton-type country star, and Wilford Brimley as Duvall's former manager. ~ Hal Erickson, Rovi
Critic Reviews for Tender Mercies
Audience Reviews for Tender Mercies
This Duvall piece influenced a lot of similar films in the future. A lot has been mined out of the "cowboy has difficulty in the modern world" storyline but they all reasonate universally.
John Ballantine
Super Reviewer
"Tender Mercies" is a very minimalist effort from director Bruce Beresford, who moves the film along at a calm and unhurried pace. As well, Robert Duvall gives an endearing and honest performance that resonates with every word that he says. Overall, the impact that "Tender Mercies" has on the viewer is not lasting, but watching it is a pleasant experience.
Stephen Earnest
Super Reviewer
Robert Duvall delivers a great, oscar-winning performance in a film that is actually worthy of it (as opposed to "The Great Santini"). Hell, even the kid (Allen Hubbard) does a good job. Duvall plays an alcholic country singer who, after waking up in a desolate country farmhouse/gas station/motel, decides to stay on and help out the owner (who is a single mother) when he can't afford to pay off his bill. Obviously, the two fall in love and get married (their relationship is formed so quickly they're already married before the movie is ten minutes in), and she helps him sober up and straighten out his life. It's interesting to see how subdued or distant the wife (Tess Harper) is. One of the closing scenes, where Duvall's character has a breakdown, any other movie wife would run to him and hug and comfort him, but this woman (who appears in the corner of the screen), merely turns and walks away. For such a loving wife, it's rather strange behavior (in fact, it leads one to question whether she really loves him, or married him just because he provided a role model for her son). His ex-wife stands in stark contrast, she's driven purely by her music career and doesn't seem to care about anything else. She's a woman who seemingly has it all, but really has nothing, whereas he is someone who appears to have nothing but really has everything he could ever want. He doesn't covet his ex wife's success. Their daughter (Ellen Barkin) is kept from him until at 18, she decides to look him up for herself. It's such a slow-moving, simple tale and yet it feels realistic, like it could've been made-for-television by Robert Altman. Duvall is convincing as a country music singer, and does a good job performing the songs in the movie. Tender Mercies would make a nice contrasting companion piece for Altman's "Nashville", if someone were in the mood for country & western, slice-of-life.
Devon Bott
Super Reviewer
Tender Mercies Quotes
There are no approved quotes yet for this movie.