Tension
(1949)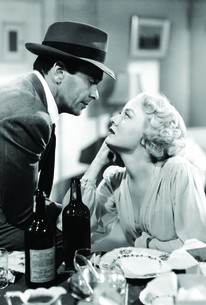 AUDIENCE SCORE
Critic Consensus: No consensus yet.
Movie Info
Richard Basehart plays a meek, henpecked chemist whose wife (Audrey Totter) is unfaithful. Using his knowledge of undetectable poisons, Basehart formulates a plan to murder his wife's lover. He eventually decides against so drastic a measure, but finds himself Suspect Number One when the lover is murdered anyway. Tension belies its title halfway through, but recovers for an acceptably heart-pounding finale. The film was one of several interesting "noir" melodramas directed by John Berry before the Blacklist forced him to work in Europe.
Audience Reviews for Tension
½
There's nothing too special here, but it's an entertaining enough noir. Audrey Totter plays a materialistic woman cheating on her pharmacist husband (Richard Basehart), a nice guy who is crushed when she leaves him for another man. He assumes an alter ego based on a brand new technology (contact lenses!), and plots revenge. Along the way he meets a nice girl (Cyd Charisse), who puts a delightful wrinkle in his plans. Totter has a wonderfully strong edge in this film, scheming and openly defiant of her husband. The scene where she appears with eyes flashing in the mirror is probably the film's strongest. Unfortunately the rest of the cast don't keep up with her. Barry Sullivan is reasonably strong as the detective, as is William Conrad as his sidekick, but he lacks a little in the 'tough guy' department. I liked seeing Charisse who has such a fresh face and is so likeable, but I'm not sure how deep her character or performance was. Other than Totter, there's just something missing, some grit or hardness, which prevents this from being a very good or great film. Also, quite a bit of the rest of the plot is telegraphed, and without a lot of subtlety. As for direction, it's decent, and the shots in the pharmacy and the street outside of it are good, as there is so much detail in the entire frame during these scenes. There was also something that was interesting about seeing a more obscure, 'B' film noir, which never committed any major errors, even if it didn't hit any homeruns.
Antonius Block
Super Reviewer
This came from a Warner Brothers Film Noir Double Feature. For me, the highlight of this film noir was simply ogling the two female leads, played by Audrey Totter ("Claire Quimby") - who wasn't beautiful but had an incredible body - and Cyd Charisse ("Mary Chandler"), who had a much smaller role but was pleasing. They were opposites: a nasty film-noir femme fatale (Totter) and a wholesome girl-next-door (Charisse). Totter played a number of classic blonde film noir floozies, women who sure look good on the outside but are nasty on the inside. She, Marie Windsor and Lizabeth Scott were all excellent noir "molls." Totter, as of this writing, is still alive at the age of 89. I think this was one of her better performances. It's a good thing the characters in this film were interesting because the story was a little too slow, to be honest. It's hard to picture, especially in the last 50 years, a crime movie with no action. We don't even see the only crime committed. It is something we hear about after the fact. We can pretty much guess who did it - it is made more than obvious - so the only question remaining is how are the police going to catch "Claire." Actually, all the actors are good in this movie and I really enjoyed some of the film noir photography. The DVD transfer of this movie, which is part of the "Film Noir Classics Collection Vol.4," is very good. Richard Basehart has the lead role as meek pharmacist "Warren Quimby." In order to hatch a plan involving murder, he dons contact lenses and darkens his hair and becomes Charisse's boyfriend, "Paul Sothern." The idea is to kill the man who took away his slimy wife, played almost to perfection by Totter. The fairly-young-looking Basehart, like the two ladies, is very good in this film, his first noir since the excellent "He Walked By Night" released the year before. Basehart didn't begin his film career until he was in his middle '30s. Of the two policeman, William Conrad is fairly intense but Barry Sullivan's character is bland, despite having some juicy parts. I think this story would have been much better with a few twists to it, and I can think at least one good one: Warren's pal "Freddie" (Tom D'Andrea) in on the crime. With Freddie nosing around all the time, looking after Warren's welfare, I thought he might wind up with a bigger part in this mystery - maybe the surprise killer to help his buddy - but it wasn't to be. That's really a summation of the story: something that could have been really clever, but wasn't to be despite some good acting performances. 5 Stars 1-21-13
Bruce Bruce
Super Reviewer
½
1949 "tension" is an underrated b picture with audrey totter who made her cameo in "postman always rings twice" as the flirtatious red-head hooks with john garfield, of course, also richard basehart who later archieves international fame in fellini's "the road" in europe right after this picture. it has all the quintessential noir elements melt with kitsch-like melodrama, but what else you could expect? it's a b picture for aficionados with a quaint knack for noir in various forms. but its scenarios are grappling in its blatant way: a drug-store nobody who pursues his dream of 50s suburbanite lifestyle by slaving himself over the nightshifts to earn as much as he could to please his harpy wife who only fancies the luxurious goods like mink coats. but this harpy blonde would sneak any chance to cuckold him as soon as she finds some other sucker to take care of her bills, so she elopes with a liquor salesman who is apparently more capable to provide her what she wants. then this miserable nobody still refuses to concede his wife without fighting, so he shows up in the love nest of the wife and the cuckold, but he gets beaten up and sneered as "four-eyed punk"....to reclaim his pride as a man, our protagonist decides to launch a make-over of himself by getting rid of his coy glasses to re-appear as a hunky sheik named paul sothern to assassinate the cuckold... it has the castrated sap, the ferocious dame with trademarked blonde hair, and the scheming detective copper as the fury who squares for justice. the story wheels along with a detached narrator whose simmering cynicism boils out to resonate audience's nosy by-stander mentality. as noir frequently favors to dichotomize women, there's alawys feminine nurturer to contrast the lady predator who nearly gulps men alive to attain the happy ending after the justice is served. audrey totter was contracted b actress of mgm studio which recruits her as the bubble-bath blondie to shape another starlet with semi-lana-turner-like aroma, don't totter's hairdo and wardrobe in "tension" somehow reminiscence a bit of "postman always rings twice" in which totter also has a small but impressionable part? but totter's femme fatale may not be as glamourous as turner but definitely much more aggressive here while she glows her lines with comtemptuous mockeries to basehart. the woman characer in "tension" becomes an exaggerated grotesque of femme fatale, since b picture tends to have very limited resources so it must create its dramatic tension by deepening its stereotypes. that's what happens with "tension". it even has a music score for totter's entrance in every scene to enhance the effect as if it's notifying the audience: here comes the sexy bad woman, pretty tacky, isn't it? (ps) just like most normally functioning dames in her time, totter chooses to settle for marriage and homelife instead of manuevering her starlet career like a down-to-earth dame, but acting comes like fun for her to tackle ocassionally during intervals. she also leaves another noir classic "the set-up" with robert ryan as the caring brunette girlfriend. "tension" and "the set-up" proves her caliber as an actress that she could play benevolent lily and malevolent wench.
Veronique Kwak
Super Reviewer
Tension Quotes
There are no approved quotes yet for this movie.