Tentacles
(1977)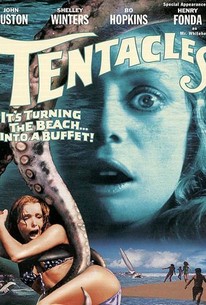 Movie Info
Suction cups of death threaten the tourists of a seaside resort in this cheap Italian knock-off Jaws. Fortunately, the hapless swimmers and boaters are saved by a plucky marine biologist who trains two killer whales to devour the eight-armed menace. Surprisingly, this film features several big name stars including Shelley Winters, Henry Fonda, John Huston and Bo Hopkins.
Critic Reviews for Tentacles
Audience Reviews for Tentacles
½
As these things go not as bad as Avalanche or The Swarm but still no great shakes with the big name cast members strictly collecting a paycheck.
AMC was having an all-day marathon today of old horror classics. Among the ones I watched was "Tarantula," "The Deadly Mantis," "Frogs," and "Tentacles." Without a doubt, "Tentacles" was the worst one of the bunch, and it was the only one that I watched that day that I didn't like. "Tentacles" is about an octopus that scares people in a seaside community. It's pretty much a ripoff of "Jaws," and a TERRIBLE one at that! Even though it has a cast that consists of two or three credible people such as John Huston, none of the cast did that great of an acting job in this film. Also, since this movie was made in 1977, you would expect it to have pretty good special effects, but again, it's a disappointment. As for the movie itself, about the only redeeming quality I noticed the entire movie was the musical score, which wasn't bad. You don't get to see a whole lot of the enemy, the octopus, in "Tentacles," but when you do, it's always underwhelming. The octopus looks like an octopus, but the movie just isn't scary, exciting, or suspenseful at all. If you're a fan of horror movies, I recommend skipping "Tentacles." NOTE: That was my Amazon review from the year 2002.
Jason Owens
Super Reviewer
Tentacles Quotes
There are no approved quotes yet for this movie.