The Terminal Man
(1974)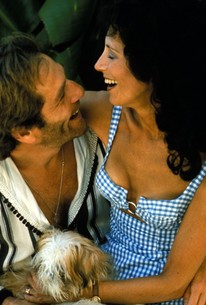 Movie Info
In this sci-fi thriller, based on a novel by Michael Crichton, a scientist decides to be the lab rat in an experimental surgery to control his violent tendencies. During the surgical procedure, a miniature computer is implanted in his head. Unfortunately, the mechanism malfunctions, and he becomes a vicious killer.
News & Interviews for The Terminal Man
Critic Reviews for The Terminal Man
Audience Reviews for The Terminal Man
½
The central idea here is that, as advances in computer sciences continue the possibility of a human cyborg, a six million dollar man if you will, becomes real and that that might not be a good thing. In this particular consideration, a computer chip acting as a mood enhancer fouls up. The director spends way too long in rooms with doctors mulling over hypothesis after hypothesis, too much time at surgery. Get to the point already! I fell asleep waiting for that to happen. It's a slow mover.
Kevin M. Williams
Super Reviewer
½
Based on a novel by Michael Crichton. If "The Terminal Man" has one fault, it is the general slowness of the plot. Even though the audience is paid in full for their patience, 2-3 minutes could have been edited out. That may not sound like much, but in a generally precise film such as this one, any more would be disastrous. The high point of this film is the style of talented director Mike Hodges. There is a scene about 2/3rds through the picture where a blood drips off the edge of a bed and flows across the floor through cracks in the tile. Those shots, and the murder proceeding it, are masterfully filmed. Early on in the film, he sustains the plot build-up with a series of innovative sequences that look great even thirty years later. George Segal gives a really superb performance as a man who is basically made into a guinea big. He does an excellent job, and still retains the charm that served him well, even when the films surrounding him were less than perfect.
Cassandra Maples
Super Reviewer
Not as good as the book, but does have a few moments here and there.
Anthony Valletta
Super Reviewer
The Terminal Man Quotes
There are no approved quotes yet for this movie.