Terminal Velocity
(1994)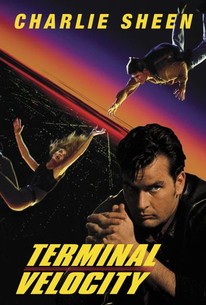 Movie Info
Espionage, elaborate robberies, and sky diving, provide the excitement in this thrill-a-minute action movie that takes a gentle poke at the genres created by Hitchcock and Ian Fleming. Ditch Brodie, a sky-diving instructor rapidly finds himself falling without a chute into a complex morass of political intrigue and murder when he begins teaching pretty little Chris, a KGB agent, sky-diving. Chris is trying to save her country from a huge robbery of the Russian treasury headed by the evil Kerr, who along with his cohort D.A. investigator Ben Pinkwater, are chasing Chris and Ditch. The film's climactic highlight involves a spectacular free fall using two planes, and a Caddy with a locked trunk.
Critic Reviews for Terminal Velocity
Audience Reviews for Terminal Velocity
The second skydiving action flick released in 94 and again its not exactly a brilliant film but fairs somewhat better than 'Drop Zone' in my opinion. Charlie Sheen is cast after the possibility of Cruise was lost so obviously instead of a huge blockbuster this is more of an average run of the mill actioner, its not too bad to be honest as Sheen was always best in silly action fests and doesn't disappoint here with his funny quick quips and slightly classic James Dean Hollywood appearance. Abit of class is added with Kinski and Gandolfini plus an interesting plot that does keep you guessing for awhile yet not too long but its actually good fun watching Sheen blunder his way through the mystery with some decent stunts and fist fighting. The most impressive stunt being a car dumped out the back of a plane with Sheen in the drivers seat, clearly not the star but its a fun sequence and better than watching skydivers mince around in the air with 'Drop Zone'. Watch out for the ending in this as its a real duffer with some nasty bluescreen going on, allot of bluescreen used in this film but the ending just looked the worst..for a simple shot.
Phil Hubbs
Super Reviewer
½
"Terminal Velocity" is without a doubt Charlie Sheen's best action movie so far and one of the best skydiving movies. It's a Cold War story about a sky-diving instructor (Charlie Sheen) who has a not so great record. He unwillingly becomes involved in a major Russian scam after one of his students (Nastassja Kinski) cheats death and makes everybody think that she fell to her death when really she didn't. Now they both must try to avoid running into the Mafia so they can have a chance to stay alive. "Terminal Velocity" is an action packed and exciting action movie. It has a lot of thrilling and exciting parts to it such as when Charlie Sheen is inside a car that is free falling down to earth. The skydiving sequences in the movie aren't the only good parts to it, however. It also has other good action packed sequences while Sheen and Kinski are eluding and running away from the Mafia, and it has some gun-shooting parts to it as well. The plot might be a bit choppy in parts, but it's still easy enough to figure out and the acting in the movie isn't bad either. If you like good action movies that are fun to watch and suspenseful at the same time, I recommend getting "Terminal Velocity." NOTE: That was my Amazon review from the year 2000. Don't remember this movie well now, but it was good.
Jason Owens
Super Reviewer
Ludicrous thriller that sees sky diving instructor Charlie Sheen battling soviet spies. How anyone could actually take Point Break and dumb it down even more is beyond me. I'll forgive you Nastassja. Just don't do it again...
Terminal Velocity Quotes
There are no approved quotes yet for this movie.