The Terminator
(1984)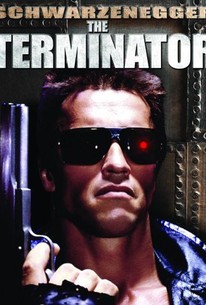 TOMATOMETER
AUDIENCE SCORE
Critic Consensus: With its impressive action sequences, taut economic direction, and relentlessly fast pace, it's clear why The Terminator continues to be an influence on sci-fi and action flicks.
Movie Info
A Cyborg has been sent from the future on a deadly mission, it has been programmed to kill a young woman named Sarah Connor. Sarah has no idea that her life will have a staggering effect on the fate of mankind and that she is in danger of being killed at the hands of an inescapable machine known as the Terminator. Kyle Reese has also been sent from the future, but his mission is to protect the unknowing mother of a future leader. Is there any way to stop the death of an innocent when the relentless Cyborg is set on his course...
News & Interviews for The Terminator
Critic Reviews for The Terminator
Audience Reviews for The Terminator
½
Though the Sequel is far more superior, this film is still fantastic. The effects for the time still look impressive, the plot is very creative and original, the acting is great, The music is incredible, and the action is fantastic. Arnold does one of his best performances with this film, and does a very good job at playing basically a serial killer going around killing everyone named Sarah, like how Michael Myers goes around butchering all the baby sitters. The other characters also do great jobs, Linda Hamilton does a great job as the fleeing Sarah Connor, and Michael Beihn does a fantastic job as Kyle Reese, and you really sympathize with these two characters and how they're trying to stay alive while this robot menace is trying to kill them.
Michael Edwards
Super Reviewer
½
The exhilarating cyberpunk classic that started the successful franchise, an intelligent, well-written science-fiction that is always extremely tense and well paced, offering us a terrifying, indestructible villain and the scary view of a bleak post-apocalyptic future.
Carlos Magalhães
Super Reviewer
½
Classic films are films that stick with you, whether or not they are amazing, but when you think about true "Hollywood" classics, "The Terminator" is usually one of the first that comes to mind. Arnold Schwarzenegger leads the film as a machine set from the past to eliminate Sarah Connor, whose child (John Connor) will become a threat in the future. The film is less about that and more about learning what the characteristics are of each one of them. With some tense moments, scary moments, and some very cool action scenes, "The Terminator" is a great film that will always be remembered. James Cameron (on a shoe-string budget) directed this film in the best way he knew how to at the time. Some of the effects feel dated, but the type of film it is, and under the circumstances that it was made, this has stood and will always stand a classic.
The Terminator Quotes
| | |
| --- | --- |
| The Terminator: | Fuck you, asshole. |
| | |
| --- | --- |
| Terminator: | I'll be back. |
| | |
| --- | --- |
| Kyle Reese: | The Terminator's an infil-tration unit. Part man, part machine. Underneath, it's a hyperalloy combat chassis,mircoprocessor-controlled, fully armored. Very tough...But outside, it's living human tissue. Flesh, skin, hair...blood. Grown for the cyborgs. |
| Kyle Reese: | The Terminator's an infil-tration unit. Part man, part machine. Underneath, it's a hyperalloy combat chassis,mircoprocessor-controlled, fully armored. Very tough. But outside, it's living human tissue. Flesh, skin, hair,blood, grown for the cyborgs. |
| | |
| --- | --- |
| Kyle Reese: | Listen. Understand. That Terminator is out there. It can't be reasoned with, it can't be bargained with...it doesn't feel pity of remorse or fear...and it absolutely will not stop.Ever. Until you are dead. |
| Kyle Reese: | Listen. Understand. That Terminator is out there. It can't be reasoned with, it can't be bargained with. It doesn't feel pity of remorse or fear and it absolutely will not stop. Ever. Until you are dead. |