Terminator 2: Judgment Day
(1991)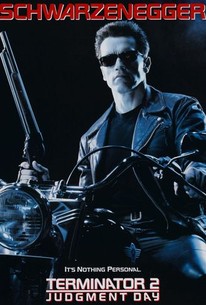 TOMATOMETER
AUDIENCE SCORE
Critic Consensus: T2 features thrilling action sequences and eye-popping visual effects, but what takes this sci-fi/ action landmark to the next level is the depth of the human (and cyborg) characters.
Terminator 2: Judgment Day Videos
Terminator 2: Judgment Day Photos
Movie Info
A sequel to the sci-fi action thriller that made him and star Arnold Schwarzenegger A-list Hollywood names, writer/director James Cameron upped the ante with this follow-up by employing a more sweeping storyline and cutting-edge special effects. Linda Hamilton returns as Sarah Connor, now a single mother to rebellious teen John Connor (Edward Furlong), during the late nineties. Having been informed by a time-traveling soldier in the first film that John will one day grow up to become humanity's savior from a computer-controlled Armageddon, Sarah has responded by becoming a muscle-bound she-warrior bent on educating John in survival tactics and battle strategies. Her ranting about humankind's future has landed Sarah in an insane asylum and John in the foster care system. The rebellious John has responded to his situation by getting into scrapes with the law. When a new and improved Terminator android called the T-1000 (Robert Patrick) arrives from the future to eliminate John, an older model T-800 (Schwarzenegger) is sent to protect the boy. The T-1000, however, has the ability to morph itself into any shape it desires, allowing it chameleon-like powers and near indestructibility. The T-800 saves John's life and helps break Sarah out of the institution. Staying only one step ahead of the dogged T-1000, Sarah leads her son and the T-800 to the headquarters of Cyberdyne Systems, the company that will invent a robotic intelligence that will eventually take over the world. There, they attempt to convince inventor Miles Dyson (Joe Morton) to help them stop the future from ever occurring by destroying his work. Dyson sacrifices himself in an explosion to save the world, leading to a final showdown between the two Terminators at a steel foundry. Terminator 2: Judgment Day (1991), which won four Oscars in technical categories for its groundbreaking effects, was followed by a short sequel filmed exclusively as an attraction for theme parks, Terminator 2: 3-D Battle Across Time (1996). ~ Karl Williams, Rovi
Critic Reviews for Terminator 2: Judgment Day
Audience Reviews for Terminator 2: Judgment Day
½
Even if it may feel a bit overlong, this fantastic sequel is perhaps even more thrilling than the first film, this time investing more in the action and first-rate special effects with a bigger budget to create something epic - and it is always awesome to see Schwarzenegger as the big hero.
Carlos Magalhães
Super Reviewer
One of the most intelligent, imaginative and riveting sci-fi, action flicks to hit the screens ever, "Terminator 2: Judgment Day" is a classic without equal. What's even more surprising is that "T2" is a sequel of an already great film. 1984's "The Terminator" was an interesting premise that Cameron pulled off ably and catapulted Arnold Schwarzenegger to the stratosphere of movie stardom. "T2" has brains to spare to go with the action and there's a lot to like. The movie banks on the insight that humans are more destructive to the world than any machine can be. Linda Hamilton's amped-up Sarah Connor is the real emotional machine in "T2" unable to see beyond the mission of saving her son for the sake of a doomed humanity. She has such little faith in humankind that her actions become robotic. The performances are top-notch. This is Schwarzenegger's key role and Hamilton has never been better. Robert Patrick's steely performance is incredibly menacing and Edward Furlong is innocent yet with strong conviction. "T2" was well ahead of its time with its digital effects and it uses them magnificently. There's nothing not to like about "T2", it's loaded with imagination, thrills and action.
Tony Gandía
Super Reviewer
"T2: Judgement Day" is the sequel that nobody in their right minds should have expected to be this entertaining. James Cameron takes every great element from his original film, showcases them with an enormous budget and tells an even more compelling story. Keeping you engaged by monotone robots and rogue humans may be quite the challenge on paper, but it is displayed seamlessly here. Again, the cast is fantastic, Edward Furlong (young John Connor) who really holds his own next to Schwarzenegger, and that is no easy feat. I loved this film from start to finish. From it's scary look at the collapsed future to it's gritty portrayal of a world going to hell, "T2: Judgement Day" may just be one of the best sequels ever made in general. This is everything a sequel needs to be.
Terminator 2: Judgment Day Quotes
| | |
| --- | --- |
| John Connor: | So this other guy, he's a Terminator like you, right? |
| The Terminator: | Not like me, T-1000, advanced prototype. Made of mimetic polyalloy |
| John Connor: | What the hell does that mean? |
| The Terminator: | Liquid metal. |
| | |
| --- | --- |
| The Terminator: | I'll take care of the police. |
| John Connor: | Hey! You swore! |
| The Terminator: | [The Terminator smirks] Trust me. |
| The Terminator: | Trust me. |