Terminator Salvation
(2009)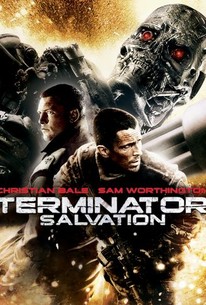 TOMATOMETER
AUDIENCE SCORE
Critic Consensus: With storytelling as robotic as the film's iconic villains, Terminator Salvation offers plenty of great effects but lacks the heart of the original films.
Terminator Salvation Photos
Movie Info
The fourth installment of the Terminator series follows an adult John Connor (played by Christian Bale) as he attempts to organize a human resistance force which could prove to be mankind's last true hope in the war against the machines. Opening in the year 2018, Terminator Salvation finds John Connor's certainty about the future shaken by the sudden appearance of a mysterious stranger named Marcus Wright (Sam Worthington), whose last memory is of sitting on death row and awaiting execution. Unable to determine whether Marcus was sent from the future or rescued from the past, Connor begins to wonder whether there is still any hope left for the human race as the robots grow more powerful and aggressive than ever before. It appears that Skynet is preparing a devastating final attack designed to eliminate the human resistance once and for all, leaving Connor and Marcus with no choice but to strike back at the cybernetic heart of Skynet's operations. Once there, the two battle-scarred soldiers discover a devastating secret regarding the potential annihilation of all humankind. Anton Yelchin fills Michael Biehn's shoes as a young Kyle Reese in the first installment of a planned Terminator trilogy from director McG (Charlie's Angels). ~ Jason Buchanan, Rovi
News & Interviews for Terminator Salvation
Critic Reviews for Terminator Salvation
Audience Reviews for Terminator Salvation
½
A very good addition to the series, better than the 3rd. Full of near non-stop action through out. A whole new range of terminators are on show and there are some great SFX/ action scenes. Some might not like the plot as it does differ from the first 3 where the action is pretty much one on one. This is very much a full on war. Go see it.
This pointless sci-fi action war film doesn't add anything new to the universe of the series but is neither an embarrassment. In fact, the only thing that makes up for its sheer inconsistencies and lack of emotional resonance is Sam Worthington's complex character.
Carlos Magalhães
Super Reviewer
½
Boring, boring, and more boring. That is the one word I will always use to describe the fourth instalment in the "Terminator" franchise. "Not having Arnold back" really left this film stale, although Christian Bale and Anton Yelchin do bring enough enjoyable charisma to the table. Much further down the line after the third instalment, Judgement Day has happened and we get to see the world crumbling around them as Skynet and technology in general has taken over the planet. Throwing in one-liners that relate to the original film and having terrible cameos were pretty much the only things keeping this film connected to it's predecessor's, and that is a big problem for me. If you watch this film as a summer blockbuster you may find yourself having a blast watching the action and not caring about the story, but that is about the most credit I can give it. Since "T2: Judgement Day," these films have been going downhill very, very fast. What's next? Probably nothing good.
Terminator Salvation Quotes
| | |
| --- | --- |
| Marcus Wright: | Why'd you do it? |
| Blair Williams: | I saw a man, not a machine. |
| | |
| --- | --- |
| John Connor: | The devil's hands have been busy. |
| | |
| --- | --- |
| Marcus Wright: | (looks at his mechanical body) Noooo!!!!! |
| Marcus Wright: | [looks at his mechanical body] Noooo! |
| | |
| --- | --- |
| John Connor: | You think you're human? |
| Marcus Wright: | I am human. |