Terrified
(1963)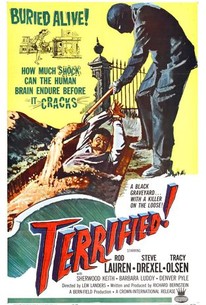 AUDIENCE SCORE
Critic Consensus: No consensus yet.
Movie Info
In this horror film, college girls head for a notorious ghost town to look into a series of bizarre murders. They are greeted by the gruesome sight of a slain cemetery caretaker. One of the college girls runs for help and while she's gone, horrible things happen to her friends, thanks to the villainous doings of a strangely hooded figure.
Critic Reviews for Terrified
There are no critic reviews yet for Terrified. Keep checking Rotten Tomatoes for updates!
Audience Reviews for Terrified
Terrified is another in a long list of movies I've been seeing lately that are terrible but intriguing at the same time. The thing that I found intriguing about this one is that it's a contender for an early look at the Giallo before it was actually a genre. It's not exactly like a Giallo, but the element of a hooded figure and the mystery of who it is doing outrageous and awful things is very much Giallo, so it has that going for it. It also has several James Dean wannabes running around in the movie. I also didn't really recognize any of the cast, so this was likely a small feature with very little money to make it. The look and story gives that away anyway. It's mostly a boring movie with a bad score, and it doesn't really go anywhere until the third act. I can't say I'd recommend it, but it's a little curiosity movie for those who are sick enough, like me. :)
Tim Salmons
Super Reviewer
This Movie I found on the Drive-In Cult Classics Vol 2 8 Movie Collection, Its put out by BCI and can be found on Amazon for a fair price. This movie was most likely made for the 18-21 crowd that used to frequent the back rows of Drive-Ins. This was the last film that Lew Landers directed. Lew directed 170 movie / TV greats. But like all great filmmakers and sports figures you just don't know when to hang it up. The movie is called terrified, it doesn't take long to figure out who the killer is. We have a madman running around all that people know is that he has a black hood with white slits for eyes. He is a terror on the highway, in a ghost town, in the grave yard, but still young people don't know the meaning of run. What I find most enjoyable about this movie is the mistakes. A young man is locked in a safe, the killer slams the door and walks away, but the safe door bounces open, but inside the safe we see a young man in total terror because he can't get the safe open. This is one of many mistakes you will find. Pay close attention to the background scenes. Still as far as old black and whites and drive in swill its worth 3 stars.
Bruce Bruce
Super Reviewer
Terrified Quotes
There are no approved quotes yet for this movie.