Testament
(1983)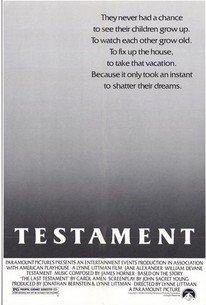 TOMATOMETER
AUDIENCE SCORE
Critic Consensus: Testament shrugs off budget limitations to tell a powerful story that anchors nuclear paranoia in one family's harrowing ordeal.
Movie Info
Director Lynne Littman has created an effective, understated portrayal of the cost of a nuclear war in human terms, in a film as far removed from the fake hyperbole of action and disaster movies as the natural world is from cartoons. Set in the small California town of Hamlin, the Wetherly family and their everyday concerns open the story. The trivia that fills their secure, ordinary existence disappears when a TV show is interrupted with the announcement that nuclear bombs have exploded in the major cities on the East Coast, and then the entire scene is erased in an increasingly white, blank movie screen -- meant to show that nuclear blasts have been detonated in California as well. Over 1000 people die in the first month from radiation sickness, but the mother in the Wetherly family (Jane Alexander) displays great inner strength as she cares for orphaned children the family has taken under its wing and goes on sustaining those that remain in her own family. At one point, she quietly conveys to her daughter the happiness of intimacy between two adults, knowing her daughter will not live to experience adult love. As these individuals and the children cope with day-to-day existence, there is never any intrusion of overt horrors, the focus remains on the individuals and the way in which they adjust to the inevitable.
Critic Reviews for Testament
Audience Reviews for Testament
Testament is open forgotten about in the rather small canon on films that depict nuclear disaster and for good reason..it's good but it pales in comparison to the edgier Threads in capturing likely actions after a nuclear blast.
John Ballantine
Super Reviewer
Very understated drama about the aftermath of a nuclear war. This film is the direct opposite of The Day After and has no flashy special effects, no explosions, scenes of mass devastation and so on. Instead the focus is on an American suburban family which has to contend with the inevitable effects of World War III. Testament shows very effectively the possible reality of what would have happened to any small town in America if a nuclear attack had happened in the early eighties. Jane Alexander does a great job as the mother trying to keep her family together during the beginning of the end. I would recommend this movie for the serious movie watcher who is looking for more substance and drama from a movie rather than action and suspense. Remember to recycle your batteries.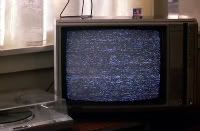 El Hombre Invisible
Super Reviewer
Testament Quotes
There are no approved quotes yet for this movie.